Vocalist Tyler Miller (pictured above) made his live debut with Thy Art Is Murder at the opening show (on 9/27) of the group's European tour in Oberhausen, Germany.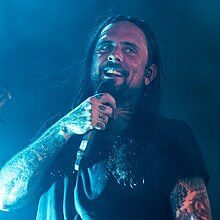 Miller's addition came less than a week after the Australian Deathcore band parted ways with longtime vocalist Chris "CJ" McMahon (pictured left), who received extensive social media backlash after posting a transphobic comment on Instagram. The band added that other factors were involved as well.
McMahon's vocals do not appear on the group's "Godlike" album, which dropped last week.
Miller's previous band, Aversions Crown, had to cancel a U.S. tour last year after being unable to secure "the appropriate work visas required to enter" the country.