U2 kicked off their "Achtung Baby Live at Sphere" residency in Las Vegas on Friday (September 29th). The run revolves around the band's '91 album.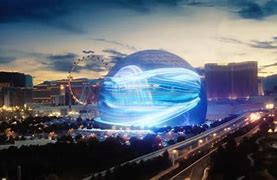 The Sphere at The Venetian Resort, a $2.3 billion entertainment venue, sits on the Vegas Strip and is billed as the "world's largest spherical structure." It can seat 17,600 people.
U2 guitarist The Edge hopes the shows will be a "quantum leap forward in the sense of what a concert can be."
"Even Better Than The Real Thing," the third song of the band's 22 song set, amply illustrated the venue's possibilities.
The residency slated to conclude mid-December.