It struck people as odd when it was announced that Country superstar Carrie Underwood would be opening for Guns N' Roses on their current tour.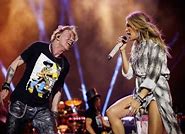 No one need worry. Underwood, a Rock fan, is buddies with GN'R's Axl Rose (pictured left). The pair have sung GN'R songs together in the past.
Underwood has received extensive praise for her performance covering songs by Motörhead ("Ace Of Spades"), Pat Benatar ("Hit Me With Your Best Shot"), Led Zeppelin ("Rock And Roll") and the Rollings Stones ("Wild Horses").
She obviously tailored her set for the GN'R audience and pulled it off.
With Dolly Parton's Rock album dropping later this year will Carrie follow with a Rock set of her own?