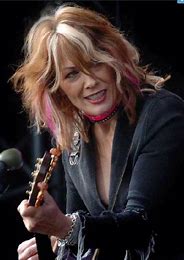 The next edition of the Rock 'N' Roll Fantasy Camp, February 15th – 18th in L.A., will feature Nancy Wilson (pictured) of Heart, Robert and Dean DeLeo from Stone Temple Pilots and Chris Slade from AC/DC.
Celebrating its 27th anniversary the Rock 'N' Roll Fantasy Camp is open to instrumentalists and vocalists of all skill and experience levels.
Following Q & A's, general instruction, jam sessions and rehearsals participants will perform at the legendary Viper Room and at the Troubadour in West Hollywood, with Slade.
For more information: www.rockcamp.com.