Often the relationship between a band and their label can be contentious. But rarely is it made public – or at least as public as Pop Evil made it.

On the second day of the '11 Rock on the Range Festival in Columbus, OH, Pop Evil, apparently frustrated with their distributor (Universal Music), tore up their contract on stage. Spin.com later called it one of the "10 Best Moments of Rock on the Range." The group subsequently signed with eOne Music where they released "War Of Angels," a month and a half later.

Pop Evil began a decade earlier in Muskegon, MI. Leigh Kakaty (vocals), Dave Grahs (guitar), Jamie Nummer (bass) and Dylan Allison (drums) were the founding members with Tony Greve, originally a temporary studio musician on the band's sessions, becoming a full member in '07. At that point, Nummer left for personal reasons and was replaced by Matt DiRito.

Following a series of EPs, Pop Evil's '08 debut full-length studio album, "Lipstick On The Mirror," with "Hero," "Somebody Like You" and "100 In A 55" was released on an independent label distributed by a Universal Music Group subsidiary.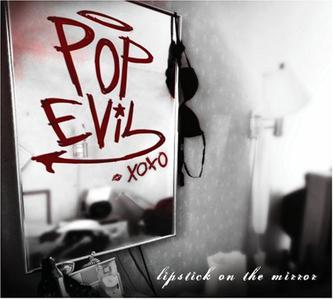 Less than six months after the release, Pop Evil signed with Universal Records. "Lipstick On The Mirror" was re-mixed and re-mastered and had a new song, "Stepping Stone," for the reissue.
"100 In A 55" cracked the Top 10 (#8) on the Active Rock survey where it charted for thirty weeks as Pop Evil supported Judas Priest on their "British Steel (album) 30th Anniversary North American tour."

Pop Evil's sophomore full-length set was delayed due to "conflicts out of the band's control." Apparently though, things were within the band's control after the outburst at Rock on the Range.

Shortly after filming the video for "Monster You Made," a track from the "War Of Angels" album, Allison had emergency surgery for a fractured neck vertebra and was not able to continue. Josh Marunde (nicknamed "Chachi Riot") filled in on drums.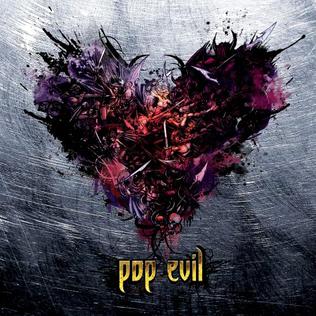 As fans of the Michigan Wolverines, Pop Evil released "In The Big House," which was used to pump-up the team and fans during home football games. The "Big House" is the nickname of Michigan stadium (the largest in the U.S.).

In '12, the band announced on its Facebook page that Greve had left. The band toured with fill-in guitarist Nick Fuelling, who eventually was named Greve's permanent replacement.

Months later, "Boss's Daughter" reached #8 on Active Radio charts. Perhaps the music video helped. It featured appearances by Motley Crue's Mick Mars and Playboy Playmate Jessa Hinton.

"Onyx," a '13 release, featured the song "Trenches" which became Pop Evil's first national #1 single on Rock Radio.
"Up," was produced by Adam Kasper (Soundgarden, Foo Fighters and Pearl Jam). The album peaked at #25 on the Billboard 200 but went to #1 in the Independent Album chart.
Months later, Marunde announced his decision to leave after a five-year run (to explore other opportunities and spend more time with family).  He was replaced by Hayley Cramer who hailed from Brighton.
After doing a 'dark' album ("Onyx") then a 'lighter' effort ("Up"), Pop Evil wanted an album that defined them and returned to their core. That led to the decision to self-title their '18 album, the band's fifth studio effort.
The lead single "Waking Lions," went to #1 on the Billboard Mainstream Rock Songs chart.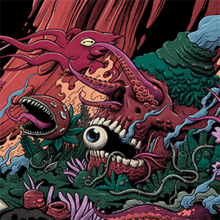 Months later, Pop Evil began work on their sixth studio effort, "Versatile." To promote the May, '21 release Pop Evil planned a short tour.  But before the trek could get underway drummer Hayley Cramer, a U.K. based musician who joined Pop Evil in '15, stated she would miss the first couple of weeks of the U.S. tour because of COVID-19 travel restrictions.
On the heels of that news, DiRito announced his departure from the band after fourteen years.
Still, Pop Evil pressed on performing at the Upheaval Festival in Grand Rapids, MI. It was the band's first show with drummer Jason Hartless and bassist Joey "Chicago" Walser.
Unfortunately, Kakaty soon tested positive for COVID-19 forcing concerts to be rescheduled.
On the plus side, "Versatile" peaked at #21 on the Billboard's Top Hard Rock Albums chart with the track "Breathe Again" becoming another #1 on the Billboard Mainstream Rock chart.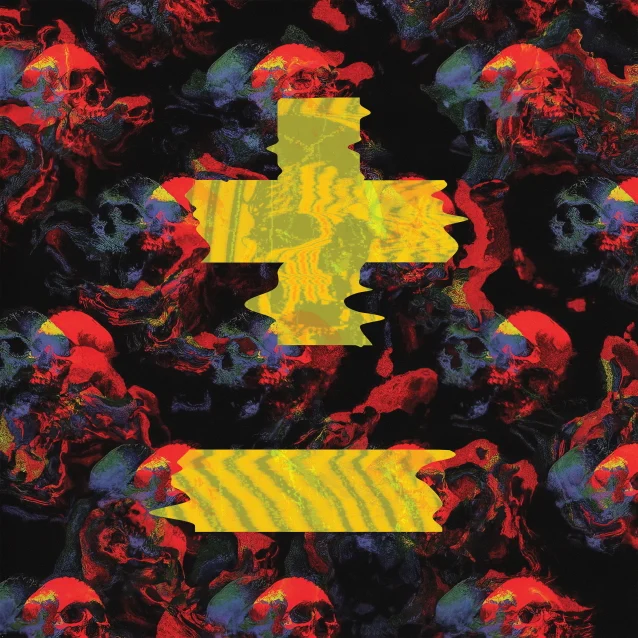 Kakaty said the band stripped "everything down to the bones" when recording "Skeletons."  "It's more uptempo, it's got bigger riffs, and we're trying to capture the energy of our live show," added Kakaty.
The '23 album has the singles "Eye Of The Storm" and "Paranoid (Crash & Burn)."