It took a life-altering event to prod Benji Madden and his identical twin brother Joel down the Rock road – a Beastie Boys' concert. The "hey, we can do that" mentality ruled as the Waldorf, MD, natives, who'd relocated to Annapolis, developed their chops.
Benji picked up the guitar and wrote songs while Joel worked on vocals. With high school buddies, drummer Aaron Escolopio and bassist Paul Thomas, Good Charlotte was rolling. Hearing Joel and Benji perform as a duo for a one-off show, guitarist Billy Martin was impressed enough to signed on.

A demo of "The Little Things" landed at a Philadelphia Modern Rock station where it beat out everything else on the playlist. That, and a hard-driving live reputation, got Good Charlotte signed by Epic with their self-titled debut arriving in '00.
The Madden brothers became MTV VJ's and soon were featured on the network's late-night show "All Things Rock."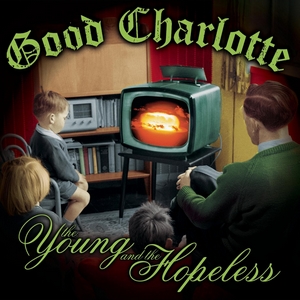 Sophomore album, "Young & Hopeless," the band's most commercially successful album, made its appearance in '02. The set featured "Lifestyles Of The Rich & Famous" and "The Anthem." Along the way, Aaron bailed but Good Charlotte kept going spending a good chunk of the year on the Warped Tour.
With the addition of drummer Chris Wilson, Good Charlotte attempted to expand its boundaries with '04 release, "The Chronicles Of Life & Death."

Following the "The Chronicles" Wilson, who had joined in '02, left citing personal health reasons. Actually, it was a combination of Wilson's drug use and inability to tour that led to his departure. Benji was quoted in Kerrang! magazine saying that, for him, Chris leaving the band was the worst part of '05.

Dean Butterworth became the group's third drummer. But even that had a back story. Butterworth, who had backed Morrissey (that sounds fun), was initially a temporary replacement but after his playing on "Good Morning Revival" he became a permanent member.

Work on "Cardiology" began with producer Howard Benson (My Chemical Romance, All-American Rejects) but those tracks were scraped, an album's worth. The group started from scratch with Don Gilmore, who had produced both Good Charlotte's debut and "Good Morning Revival."
Stating that the group's fifth full-length album was so named because the lyrics were "all connected to the heart," Joel went on to add that the album sounded a lot like Blink-182 and that it "there's nothing dance-y on the record at all, which is different from our last one" ("Good Morning Revival").

To promote "Cardiology" the group posted lead single "Like It's Her Birthday" on YouTube saying that if the track received over 100,000 views they would post another song. It did, so they did.

There was nearly a six-year gap before Good Charlotte returned with "Youth Authority," released on Benji and Joel's own MDDN label.
According to a band statement the album was written for "people who love music and are constantly motivated and trying to live a rad life."  Notable for the singles "Makeshift Love" and "40 Oz. Dream," the set peaked at #23 on the Billboard 200 and made it to #4 on the Top Rock Albums chart.
The band issued their seventh full-length effort, "Generation Rx," only two years later. The '18 set featured "Actual Pain," a song inspired by the death of Rapper and band fan Lil Peep, who struggled with mental health and addiction before overdosing on fentanyl and Xanax.