After spending all night living it up, Rock stars, or anybody else for that matter, should not attempt to drive home. Add to that, never let your girlfriend drive either. Also, make sure your mechanic does a complete job of fixing your car. All these contributed to end Marc Bolan's life.
Starting as a solo act, Bolan soon joined the psychedelic band, John's Children and stayed with that outfit for a large chunk of the late '60s before starting the acoustic Folk oriented Tyrannosaurus Rex. After a couple "mystical" albums Bolan, like Bob Dylan before him, went electric.
He also contributed his guitar talents to David Bowie's single "The Prettiest Star." But it stiffed.  When the song was re-recorded for the "Aladdin Sane" album Bowie's axeman Mick Ronson mimicked Bolan's original guitar part.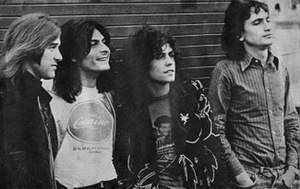 Meanwhile, Tyrannosaurus Rex went from a duo to a trio with the addition of Steve Curry on bass (percussionist Steve Peregrin Took was the other member). Also, the name got shortened to the familiar T-Rex. For a '71 U.S. tour drummer Bill Legend made T-Rex a quartet. They opened for Humble Pie and Mountain.
Known for "Bang A Gong (Get It On)" and other Boogie Rockers like "Jeepster" and "Telegraph Sam," T-Rex, and Bolan in particular, fit nicely into the Glam Rock scene with make-up, glitter and outlandish clothes. For a British TV show Bolan had Elton John sit-in on piano for "Get It On," the U.K. title of T-Rex's biggest song. Both "Get It On" and "Jeepster" were on the "Electric Warrior" album (pictured right). "Telegraph Sam" appeared on "The Slider" (pictured at top).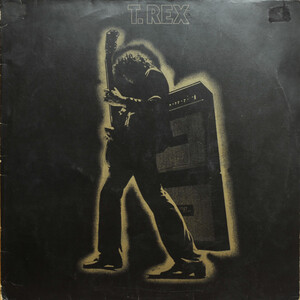 T-Rex's U.K. popularity was so massive that it attracted the attention of the Beatles' Apple productions. Ringo Starr produced and filmed the documentary "Born To Boogie" which naturally centered on Bolan.

In the late '70s, with Glam Rock threadbare and Bolan's boogie style out of juice, he tried some unsuccessful experiments including an attempted re-launch of Jones' lackluster dance music career. It was then, following a late evening at a London club, Bolan and Jones headed home. Jones was at the wheel when the car went out of control and struck a tree. Bolan was killed and Jones badly injured. It was later discovered that the car had been worked on recently and bolts on a tire were loose.