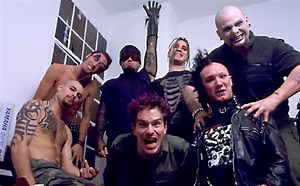 Queens Of The Stone Age have unveiled "Carnavoyeur," the follow-up to "Emotion Sickness."
Both tracks are featured on QOTSA's eighth album, "In Times New Roman…" Their first new set in six years will drop June 16th.
The album was recorded at frontman Josh Homme's studio in L.A. with additional recording at producer Rick Rubin's Shangri-La studios in Malibu, CA. Produced by the band the set was mixed by Mark Rankin.
"In Times New Roman…" Track Listing:

01. Obscenery
02. Paper Machete
03. Negative Space
04. Time & Place
05. Made To Parade
06. Carnavoyeur
07. What The Peephole Say
08. Sicily
09. Emotion Sickness
10. Straight Jacket Fitting
QOTSA's previous album, 2017's "Villains," peaked at #3 on the Billboard 200.