If you're gonna be a big hair & make-up band it might be a good idea to have a licensed cosmetologist in the group. That was the previous calling of Poison's bass player Bobby Dall (a.k.a. Robert Kuy Kendall).
Vocalist Bret Michaels (a.k.a. Bret Michael Sychak) and Dall shot out of their native Pittsburgh to try their luck in LA. There they ran into guitar vet C.C. DeVille.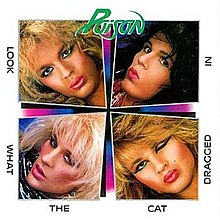 With the addition of drummer Rikki Roberts, the group hit the L.A. club circuit, securing a Capitol recording contract in '86 and releasing their debut "Look What The Cat Dragged In."
Singles from the album, "I Won't Forget You," "I Want Action" and "Talk Dirty To Me," accompanied by the MTV ready video filled with blonde models, pushed the album to platinum status.
'88 saw the arrival of the group's sophomore effort "Open Up and Say-Aah!" with singles, "Nothin' But A Good Time," "Fallen Angel" and the chart-topping power ballad "Every Rose Has Its Thorn," the second best-selling pop single of the year, behind Steve Winwood's "Roll With It."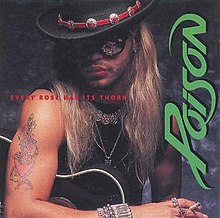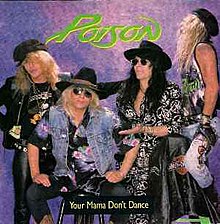 There was even a cover of Loggins & Messina's "Your Mama Don't Dance" popping up the charts. Seemed they couldn't miss.
"Flesh And Blood" appeared like clockwork in '90 and contained Poison's best single "Unskinny Bop." By the end of the year another ballad "Something To Believe In" hit the chart's upper reaches.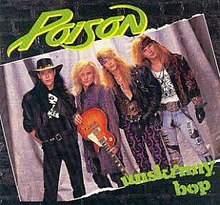 However, '90 also saw the group's principals lose focus. First, Michaels was intensely involved in his girlfriend, Susie Hatten's recording debut, while DeVille worked with Warrant. The following year some U.S. tour dates were cancelled amid drug rumors.
Then Michaels and DeVille pummeled each other in a New Orleans hotel room. Michaels soon signed a solo recording deal while both Dall and DeVille entered drug rehab. DeVille departed in '92 and a succession of guitarists came and went but Poison was done – for the time being.

In the '90s, Michaels formed a film company with actor Charlie Sheen. But his best-known production was a sex video made with former girlfriend, 'actress' Pamela Anderson.
But the story doesn't end there. With alimony payments, therapy and excessive lifestyles draining all the money earned from the first go round, it made perfect sense for Poison to resurrect itself, with the original line-up. "Hollyweird," out in '02, was the result.

Five years later, the group issued "Poison'd," a covers collection of songs from the '70s and '80s. No doubt these songs, out before Poison's fame, resonated with the band.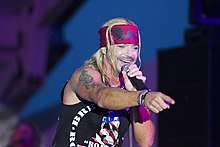 Michaels landed a plum gig in '10 when he was selected to participate in Donald Trump's reality series, The Celebrity Apprentice. But just a month later he was rushed to a San Antonio hospital for an emergency appendectomy. While the trip to the hospital was tense the procedure was pretty standard stuff. But what came next wasn't.
Michaels was soon back in the hospital. This time it was at the Barrow Neurological Institute in Phoenix to treat a brain hemorrhage that had caused bleeding at the base of his brain stem. In what doctors called an incredible recovery – based on a strong will to live – Michaels was discharged after two weeks to undergo on-going physical therapy at another facility.
Despite health issues, Michaels amazingly won Celebrity Apprentice. He appeared on the show's season finale, against doctor's orders. His $250,000 winning prize was donated to the American Diabetes Association.
Keeping themselves viable (primarily through touring), Poison supported Mötley Crüe and Def Leppard on "The Stadium Tour."
Originally slated for '20, COVID-19 put a hold on those plans. Finally, two years later, the tour launched playing over three-dozen shows grossing nearly $200 million.