It cut like a knife through the radio airwaves. The driving beat with acoustic and electric guitars going full tilt. Still, you kept coming back to that voice. It was harsh and powerful yet had a plaintive, desperate quality. Was it some long lost classic or had Humble Pie re-grouped, and just by chance, recorded the best thing of their career? No, it was "Bring Me Some Water" from Melissa Etheridge's self-titled debut.

Fast-forward twelve years. Melissa, her significant other, Julie (mom) Cypher, the couple's child, Bailey Jean and the biological dad, David Crosby (of Crosby, Stills & Nash) were featured on the cover of "People" magazine. Sure, there were a flood of jokes about this brave, new extended family… like, "how did Crosby manage to get this, the best gig of his career?"

Etheridge got her first guitar at age eight and soon began writing songs. By eleven, she was performing in local talent shows. Busting out of her native Leavenworth, Kansas, at age eighteen, she attended the Berklee College of Music in Boston before heading to L.A. Along the way Etheridge found her Blues/Rock style. A demo got in front of the right people and she was signed by Island Records.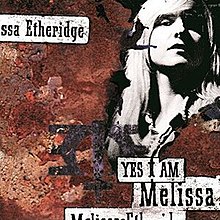 From "Yes I Am" there's the slow driving "I Am The Only One." The guitar chugs along with Etheridge providing slow burning vocals until consumed by raw emotion. In her best songs, Etheridge's voice, with an undeniable urgency and emotion, draws you in. There's a craving that reaches fulfillment (or resignation) by the song's end.
Even though Etheridge has sold over 25 million albums more people have heard of her than have heard her.
Etheridge's non-musical activities garnered a huge amount of press complete with news her relationship with Cypher had hit the skids. Later, she married to Tammy Lynn Michaels in '03, Etheridge joked that she was behaving like a typical Rock star by hooking up with a far younger actress. Six months later she released her "Lucky" album.

Performers often change their trajectory. But sometimes outside forces act upon them. In '04, while Etheridge was on tour she noticed a lump on her breast. She was soon diagnosed with stage two breast cancer. As a result, Etheridge underwent a full mastectomy followed by chemotherapy.

It was at the '05 Grammys where Etheridge made her public comeback performing a cover of Janis Joplin's "Piece Of My Heart." The audience roared their appreciation and approval.

"Every day someone comes up to me and says something about that performance," said Etheridge. "When people hear you have breast cancer, they tend to write you off."

A cancer-free Etheridge made the rounds on T.V. morning shows including "Good Morning America's" Women Rule Concert Series where she told her story and promoted her greatest hits set, "The Road Less Traveled." During her Times Square appearance she sang her hit ballad, "Come To My Window," and a song dedicated to fellow cancer survivors "I Run For Life." Royalties went to breast cancer charities.

Switching gears, Etheridge turned her attention to the environment. She wrote the song "I Need To Wake Up" for former vice-president Al Gore's documentary film "An Inconvenient Truth." The track won an '06 Academy Award for Best Original Song. Then came '07's "Awakening" album.

Etheridge performed at the '08 Democratic Convention in Denver and at Live Earth in New York (at Giants Stadium), a follow-up to her "An Inconvenient Truth" efforts.

In February, '11, Etheridge did a week-long stint as St. Jimmy in Green Day's hit Broadway musical, American Idiot.

Later in the year, she received a star on the Hollywood Walk of Fame. Located at 6901 Hollywood Boulevard, it was the 2,450th star awarded.