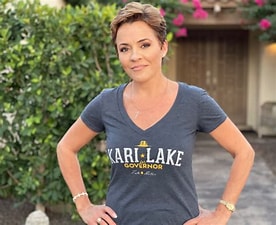 Failed Arizona GOP gubernatorial candidate Kari Lake made an entrance during a (5/31) rally in Scottsdale as Lenny Kravitz's rendition of "American Woman" played before she announced yet another legal challenge to the results of last year's election which she lost but refused to concede.
Here's the irony. Canadian band. the Guess Who recorded "American Woman" in '70 and it painted a derogatory picture of the U.S. ("I don't need your war machines, I don't need your ghetto scenes").
Lake got beat up on social media for obvious reasons.