It's not unusual for a group to toss a member prior to the recording of their debut album. Whether it's due to a lack of talent, personality conflict, drug abuse or an aversion to touring, line-up changes are fairly common. What is unusual in the Gin Blossom's case is the one bounced, guitarist Doug Hopkins, was not only a founding member but also responsible for composing the group's first two hit singles, "Hey Jealousy" and "Found Out About You."

Hopkins and bassist Bill Leen, veterans of the Tempe music scene, formed the Gin Blossoms in '87. The name was taken from a caption under a photo that read, "W.C. Fields and his gin blossoms." The 30s-40s movie comedian was a notorious drinker and gin blossoms, facial blemishes resulting from the alcohol abuse over an extended period, scared Fields' nose turning it red and bulbous. The alcohol abuse reference would prove telling.

Guitarist/vocalist Jesse Valenzuela and drummer Phillip Rhodes were added. But the arrival of guitarist/vocalist Robin Wilson was probably the most significant development. He took over the lead vocal responsibilities from Valenzuela. His plaintive voice becoming a key element in the band's sound.

Following the group's debut EP ("Up And Crumbling") Hopkins' drinking became a major issue. He'd become unreliable, as heavy drinkers often are. And there was simply too much at stake.

Scott Johnson was Hopkins' replacement as the Gin Blossoms recorded their '92 release, the full-length, "New Miserable Experience." Sadly, Hopkins committed suicide the following year. He'd checked into a detox center in Phoenix. On December 3rd, '93 he walked out. The next day he was found dead from a gunshot wound.

"New Miserable Experience" was anything but. Aside from Hopkins' contributions, the album contained "Mrs. Rita," "Allison Road" and another hit, "Until I Fall Away." But initially it was slow going. It would take months before "Hey Jealousy" gained any traction. Through '94 and '95, singles from the album hit the charts as the group toured.

In early '96, "Congratulations, I'm Sorry" was issued with "Til I Here It From You" and "Follow You Down." These songs proved the group could generate hits without Hopkins. While "New Miserable Experience" sold over four million copies, "Congratulations, I'm Sorry" was only single platinum (one million sales). Still, very respectable. But accumulated baggage, including Hopkins departure and death, took its toll. The band announced their breakup in December of '97.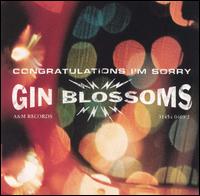 Separate projects were not entirely rewarding so the group re-formed in '02. They toured and released "Major Lodge Victory" in '06.

While the Gin Blossoms' fifth studio album, "No Chocolate Cake" did better on the Billboard 200 than "Major Lodge Victory," it only got to #73. Over the '10 Thanksgiving holiday the band traveled to Iraq to play a series of shows for American troops stationed there.

Drummer John Richardson left in '12 following a four-year run to pursue other recording and performing projects. The Gin Blossoms announced that Scott Hessel was now their road drummer.

"Mixed Reality" was released on Cleopatra Records. "Regardless of commercial outcome, I know 'Mixed Reality' is special, and that we've lived up to our legacy," said Wilson. It was the group's first album in eight years.