The Genesis story covers three distinctly different periods: Genesis with Peter Gabriel, then the post-Gabriel Genesis and finally the '80s Phil Collins led incarnation with remaining members Mike Rutherford and Tony Banks.

Genesis (Original Version)

Under Peter Gabriel's leadership, Genesis was Prog Rock to the extreme. Given Gabriel's use of masks and props the band was visually arresting. Launched in the late '60s, it wasn't until the '72 release of "Foxtrot" that the group's sound came together.
"Selling England By The Pound" represented another step forward as the group added political commentary to their repertoire.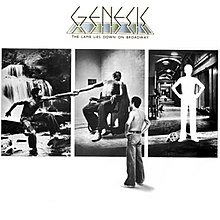 "The Lamb Lays Down On Broadway" was their most ambitious and successful album with Gabriel. After a tour supporting the double set, Gabriel departed.
His solo career took a while to get going. It wasn't until the mid-80s, after he mainstreamed his sound (as much as he could), did he score with "Sledgehammer" and the clever accompanying video. Meanwhile his former band mates pressed on with drummer Phil Collins handling lead vocals.


Genesis (post-Peter Gabriel)

With Gabriel's departure Genesis' remaining members decided to buck the odds and continue. Genesis, slowly at first and then with great haste, moved away from Art Rock to the Pop/Rock mainstream. Also, ex-Yes drummer Bill Bruford signed on.

Genesis (The 80s)

Genesis, whittled down to a trio, was headed by Phil Collins (with his "cabbage patch doll" looks). After years of not making money with Gabriel, they rode Collins to the hilt.
The 1980s were great for the band. Beginning with "Duke" in '80 the band had a string of five straight #1 albums. Following "Duke" there was "Abacab," "Genesis," Invisible Touch" (pictured) and "We Can't Dance"… released in '91.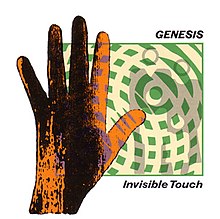 "Abacab" had the title track plus "No Reply At All" while "Invisible Touch" also contained a title track hit plus "Land Of Confusion."
Collins also embarked on a commercially successful solo career that hit a commercial peak with "No Jacket Required." His influence was so pervasive it was hard to tell Genesis from Phil Collins' solo stuff.
Meanwhile, guitarist Mike Rutherford busied himself with Mike & The Mechanics. This outfit's self-titled debut with "Silent Running" and "All I Need Is A Miracle" was the best album produced by any Genesis member either individually or collectively in the '80s. Their sophomore set held the hit ballad "Living Years."

Genesis (The 00's)

The demand for classic bands is amazing – especially ones with a ton of hits. The Phil Collins led edition of the Genesis (with Rutherford and Banks but no Gabriel) embarked on hugely successful world trek in '07. The Turn It On Again Tour, taking its name from a song on the '80 "Duke" album, was the first time this line-up performed together since '92.


Hall of Fame

Genesis was inducted into the Rock and Roll Hall of Fame during a '10 ceremony in New York. Collins and Rutherford were there but not original frontman Peter Gabriel – he was preparing for a European tour.

As part of the induction ceremony Phish performed "Watcher Of The Skies," a song that kicked off early Genesis shows.

"It's impossible for me to overstate the impact this band had on me as a young musician and I'm forever in your debt," said Phish guitarist Trey Anastasio during his Genesis induction speech. "When I hear Radiohead's "Kid A," with its odd time signatures and spacious visual arrangements, I hear Genesis, and I hear them in the sonic islands My Bloody Valentine plays between their songs."

Five years later, Banks was named the Prog God for 2015 at the Progressive Music Awards in London.