Creed got slammed by critics but rather than ignore them, the reviews took root. Creed's third full-length release "Weathered" hit the streets in '01. The symbolic title, as in "weathered the criticism," should have been a warning – even for a group with a pretty incredible track record.
To add insult to injury, the critics weren't all that excited about this "artistic statement" either.
Creed's career started on a much higher plane. Vocalist Scott Stapp and guitarist Mark Tremonti were high school friends. A few years after graduation, the two teamed up in Tallahassee, of all places, with bassist Brian Marshall and drummer Scott Phillips.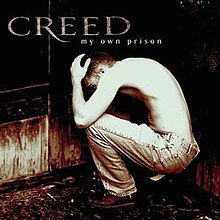 The group's debut "My Own Prison" played like a greatest hits collection. The '97 release had Alt. hits with the title track, "What's This Life For," "Torn," and "One." Thanks to Stapp's dad, a Pentecostal minister, and Stapp's own religious leanings, the lyrics often dealt with spiritual matters.
As impressive as that was, the follow-up, two years later, "Human Clay," did even better. It topped the album chart upon release and featured the single "Higher." Then the power ballad "With Arms Wide Open," ruled the Mainstream Rock chart and went to #1 on the Billboard Hot 100. Those two songs served, in a large part, to push "Human Clay" sales past the ten million mark.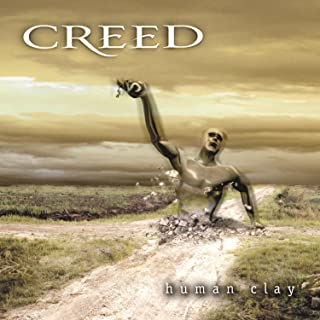 The group embarked on a successful '00 tour but lost Marshall, who left to "pursue other interests." Though Marshall's departure was said to be his decision but there was more to it.

During a radio interview on Seattle's KNDD, Marshall claimed that Stapp was a better songwriter than Pearl Jam's Eddie Vedder. Marshall went on to say that the Seattle band's recent albums had "songs without hooks."
It was probably not the most politically correct thing to say (especially in Seattle) but not the end of the world. There might be a day or two of buzz about the comments but no lasting damage. Right? Wrong.

"There is no excuse for the arrogance and stupidity (of Marshall)," stated Stapp." "I ask you all not to judge Creed as a band, because the statements made were not the band's feelings, they were Brian's. I'm sorry if Brian offended anyone, and he has already apologized for his comments."

Not surprisingly, Marshall left soon afterward. Brett Hestla played bass on Creed's next tour.

The sensitivity was due to the simple fact that Creed was the Nickelback of the '90s – an incredibly successful band that lacked (according to critics) any credibility. So going after a critic darling like Pearl Jam was ill-advised, to say the least.

The group recorded the aforementioned, "Weathered," with Tremonti handling bass (as well as guitar). Matters weren't helped any by Stapp's addiction to painkillers following a car accident. Then there was a disastrous show in Chicago where Stapp was obviously intoxicated.

The group parted ways in '04. Tremonti, Phillips and Marshall (returning) formed Alter Bridge with vocalist Myles Kennedy. Stapp pursued a solo career, after nearly committing suicide and then finding sobriety.

Five years later, the band put the bitter breakup behind them and recorded a comeback album "Full Circle" before launching a tour.

Though Creed played to a lot of empty seats on the trek, "Full Circle" made its debut at #2 on the Billboard album chart (behind Michael Jackson's posthumous "This Is It").

'13 saw Alter Bridge unfurl "Fortress" and just weeks later Stapp answered with "Proof Of Life" with the lead single was "Slow Suicide."

Had Stapp turned the corner? No. He released a Facebook video in '14 telling fans that he was currently homeless. He said an audit revealed money had been stolen from him and royalties had not been paid.

Stapp's wife, Jacklyn, who recently filed for divorce, claimed Stapp had recently been using drugs and that he threatened to kill himself and hurt his family.

Stapp eventually completed treatment in a rehab facility.