MTV IS TEACHER APPROVED

It's doubtful MTV would have ever used the above as an advertising slogan when they launched in the '80s but they could have.

From Dire Strait's "Money For Nothing," with Sting's guest vocals, came the ethereal demand "I want my MTV." Both Sting (The Police) and Dire Straits frontman, guitarist/vocalist Mark Knopfler, were ex-teachers. Someday, somebody will write a doctoral dissertation on the connection between teaching and Rock (Gene Simmons of KISS was also a teacher).
Of course, there would be pages and pages telling us what we already know; going from teaching to Rock is analogous to joining the other side.

"Money For Nothing" and its accompanying animated video tore through the music biz.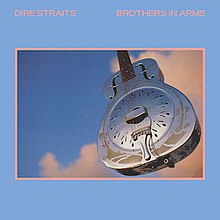 Aside from the hit single, the "Brothers In Arms" album, also showcased the rousing "Walk Of Life" and the riff ballad "So Far Away." Amazingly, the band didn't release another album for six-years but Knopfler kept busy with outside projects working with Eric Clapton and Bob Dylan, among others.
By that time, the band was considerably different than when Dire Straights got together in '77 around a nucleus of Mark Knopfler, his guitarist brother David and bassist John Illsley. Their name came from a friend commenting on the group's financial condition.
After the brief period, they changed the spelling. That tended to blur the meaning – making it more of a pun.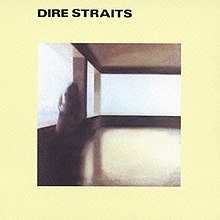 They also recorded their self-titled debut containing early signature song "Sultans Of Swing." It crystallized the Knopfler guitar style – choppy, almost percussive lead lines. As for the vocals, Knopfler clearly belonged to the Dylan school of singers specializing in a talking/singing delivery with about a five-note range. The album also had the stark "Water Of Love" and "Down Along The Waterline."
Dire Straits followed their initial success with their second album "Communiqué" in '79. Like the first album, this record was entirely written by Mark Knopfler.

Starting work on their third full length effort David decided to go solo.
"Makin' Movies" saw Alan Clark added on keyboards. The album also featured work from keyboardist Roy Britten, of E Street Band fame. An outstanding track was the keyboard drenched "Skateaway," Knopfler's tribute to a "roller girl."

The "Love Over Gold," album was followed by the EP "Twisting By The Pool." The title track was an infectious romp. A whole lotta fun. Also, ex-Rockpile drummer Terry Williams had joined.
Then came "Brothers In Arms."

In '91 the band re-grouped for the recording of "On Every Street." The set had three songs that illustrated Knopfler's stylistic diversity; in both writing and playing. The whimsical "Calling Elvis" had a Country/Rock feeling. "The Bug" was more philosophical but also has a roots Rock feeling. (The song was later covered by Country singer Mary-Chapin Carpenter.) Then there was the driving "Heavy Fuel."