Iron Maiden took its name from a particularly nasty medieval torture device. As a reaction to the U.K.'s rising late-70's Punk scene Iron Maiden aimed at preserving the Metal ethos and set down a blistering path with chain saw twin guitars and manic, rage filled vocals, extolling a dark side that welcomed annihilation. They came on like street thugs channeling Nordic warriors. How could they miss? They didn't, selling over 50 million albums before the dust settled.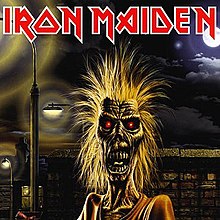 But even vocalist Bruce Dickinson's theatrics were upstaged by the band's mascot, Eddie. A decaying, wrinkled monster that graced several album covers, Eddie was perfect. That image, more than anything else, told the public what Iron Maiden was all about.
Iron Maiden formed around the bassist Steve Harris/guitarist Dave Murray nucleus. But a falling out with the group's then-lead singer Dennis Wilcock caused Murray to pack it in. But in short order Wilcock was gone, Murray returned and singer Paul DiAnno was added.
While their first two albums, the self-titled debut ('80) and "Killers" ('81) were exercises in sonic brutality it was their third album, and first with Dickinson, "The Number Of The Beast," that hurled the group before the masses.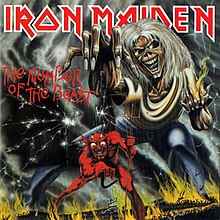 Years later "The Number Of The Beast" was named the greatest album in British music made during Queen Elizabeth II's 60-year reign, according to retailer HMV's online survey of 30,000 music fans. To earn the '12 honor, Iron Maiden beat out The Beatles and Pink Floyd.
Though "The Number Of The Beast" was Iron Maiden's breakthrough album and has the inescapable "Run To The Hills," it is not their most accomplished.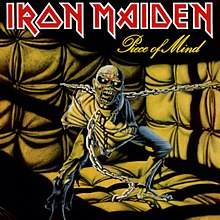 The earlier "Killers" ('81) with "Women In Uniform" and "Twilight Zone" and later "Piece Of Mind" ('83) featuring the classic "Flight Of Icarus" are the band's signature efforts.
"Powerslave" ('84) and "Live After Death"('85) had the raw power and Metal aggression to make Iron Maiden an integral part of every headbanger's life.

When Dickinson departed in '94 he was replaced by Blaze Bayley making the rest of '90s little more than a re-tread of earlier, better Maiden.
Early '03, word came out that Dickinson would front Iron Maiden once again to record and tour. They made a roaring return with "Dance Of Death."
Their next trip to the studio resulted in '06's "A Matter Of Life And Death."

"Somewhere Back In Time: The Best of 1980-1989" dropped in '08. With that, the group played 23 concerts on five continents in 45 days. Of course, a tour like that should be documented and this one was. "Iron Maiden: Flight 666," a DVD/CD, came out in '09.

Iron Maiden traveled on Ed Force One, a Boeing 757 with an image of Eddie on the plane's tail. Dickenson, a qualified airline pilot, was at the controls (as he was during the "Somewhere Back In Time" tour).

The double album, "The Book Of Souls," landed in '15. "By the time we'd finished we all agreed that each track was such an integral part of the whole body of work that it needed to be a double album," stated Dickinson. The set debuted at #4 on the Billboard 200 after opening week sales of 75,000 copies.
Iron Maiden delivered their 17th album, "Senjutsu" (with "samurai Eddie" on the cover), in '21, containing the lead single "The Writing On The Wall." Maiden's first album in six years was recorded in Paris with producer Kevin Shirley and co-produced by Harris.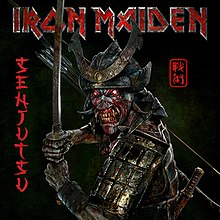 "Senjutsu" entered the Billboard 200 chart at #3, moving 64,000 equivalent album units in its first week, making it the band's highest-charting album ever. The title, which loosely means "tactics and strategy" in Japanese, also topped Billboard's Top Rock Album chart.