To date, eighteen songs have topped Billboard's Mainstream Rock Songs chart.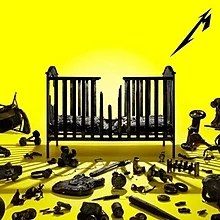 Metallica had the most #1s this year – "Lux Æterna," "72 Seasons" and "Too Far Gone." They are all on the band's eleventh album "72 Seasons." 'Tallica' songs topped the chart for a total of eleven weeks this year.
"Lux Æterna" had eleven weeks at #1. Released in late '22, the song spent eight weeks at heading the chart this year. Another song with an eight-week run was Linkin Park's "Lost."
An additional four songs had multi-week runs at #1: Jelly Roll: "Need A Favor" (3 weeks). Metallica: "72 Seasons" (2), Staind: Lowest In Me"(2) and Disturbed: "Unstoppable" (2).