After leaving Guns N' Roses, Slash (guitar), Duff McKagan(bass) and Matt Sorum (drums) played a charity gig. They realized they still had a great chemistry. Auditions resulted in guitarist Dave Kushner's addition. Now it was time to find a vocalist.
Ex-Stone Temple Pilot vocalist Scott Weiland, one of the 90's more impressive talents, signed on. Velvet Revolver had the makings of a supergroup. There was just one problem. Weiland just couldn't stay out of trouble.
With STP out of the picture for the moment and an easily forgotten solo effort behind him, Weiland racked up a series of DUIs and drug arrests that continued through Velvet Revolver's formation. To compound the problem, Weiland was accused of walking away from a court ordered rehab center. He claimed he had permission to leave.
Much of this was still swirling when Velvet Revolver released their debut "Contraband." Weiland's arrest and rehab record was so bad that he had to ask the court's permission to film the "Slither" video and participate in the subsequent tour.
As work on Velvet Revolver's sophomore effort, "Libertad," wrapped up, McKagan gave his group a little promo. "We may be the first dangerous band that's come along in a long time," declared the bassist. "Our goal is still to go out there and cause as much chaos (as) possible." Well, why not? Any band with Weiland should be able to accomplish that. Or maybe Weiland wasn't the issue.

Prior to the album's release, Slash revealed that he and some of his fellow band members "lapsed back into some old habits" while recording. "The only one who stayed completely sober actually was Scott," claimed Slash.
"Libertad" was issued in '07 featuring the single, "She Builds Quick Machines."
"It's a great f**kin' rock song," said McKagan. "It has a kick-ass guitar riff, a great chorus, a really big bridge and a great Slash solo." That McKagan was a one-man PR outfit.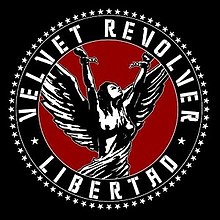 Later that year, Velvet Revolver hit a tough patch. Weiland was arrested in November. Police said he failed a sobriety test following a car crash in L.A. and that he posted $40,000 bond following his refusal to give a blood or urine sample. Then, after being denied visas to tour Japan earlier in the year (they were deemed 'undesirables'), Velvet Revolver were forced to postpone their Australian trek due to unspecified band-related health troubles.
During an ill-fated '08 European tour Weiland once again entered rehab. He was out in time for the trek but things went sideways during a show in Glasgow when Weiland announced to the audience that they were witnessing "the last tour" by the group. Later, the vocalist argued with a sound person before storming off the stage.
"(We) had a little band (turmoil) onstage as you probably all could tell," wrote Sorum in an understated blog post the following day.

Velvet Revolver officially announced that they had parted ways with Weiland on April Fool's Day, '08. Unfortunately, it was no joke. "This band is all about its fans and its music and Weiland isn't 100-percent committed to either," said Slash in a statement. "Among other things, his increasingly erratic onstage behavior and personal problems have forced us to move on."

Just days later, Weiland confirmed his intention to leave the group after the tour as Stone Temple Pilots announced plans for an extensive reunion tour.

Alter Bridge's Myles Kennedy, who had worked with Slash, and Corey Taylor, frontman for Slipknot and Stone Sour, were leading candidates to replace Weiland. But either due to personality or scheduling conflicts the group looked elsewhere… but nothing resulted from those efforts.

Weiland, seeming to muddy the waters even further, stated that he had rejoined Velvet Revolver permanently for a tour and an album. That report was denied by Slash a few days later.

While on tour with his ill-fated solo band The Wildabouts, Weiland was found dead, apparently passing in his sleep (12/03/15) during a stop in Bloomington, MN. Detectives found a small quantity of cocaine in Weiland's tour bus bedroom.

The troubled singer was 48.