For a time, the mightiest Blues shouter in the U.K. was a teenage Steve Winwood, the singer for the Spencer Davis Group ("Gimme Some Lovin'"). He also played organ, piano and guitar.
When the Spencer Davis Group's limited scope became too confining Winwood served notice. Eric Clapton and Winwood talked about forming a group but Winwood had just started another project.
Working with guitarist Dave Mason, drummer Jim Capaldi and Chris Wood on sax and flute, Winwood launched Traffic. But Mason seemed to be the odd man out with Traffic often operating as a trio. (Clapton didn't suffer. He started Cream.)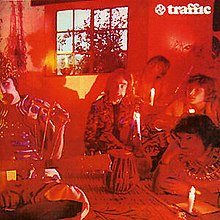 Traffic's late '60's acoustic-oriented Rock was masterfully displayed on the group's first three albums ("Mr. Fantasy," "Traffic" and "Last Exit"). The songwriting was sharp ("Dear Mr. Fantasy," "Pearly Queen" and "Shanghai Noodle Factory") with top drawer musicianship.
After brilliant but unappreciated albums, Winwood finally hooked up with Clapton for a brief and unsatisfying stint with Blind Faith.
Following Blind Faith, Winwood began work on a solo album but decided to re-formed Traffic instead with Capaldi and Wood. The trio produced the excellent "John Barleycorn Must Die" featuring the opening instrumental track, "Glad."
The group began adding members. By the time of the live "Welcome To The Canteen" album Traffic had Blind Faith vet Rick Grech on bass and percussionist Reebop Kwaku Baah, to name a few.
They released strong albums that managed to sell even without any hit singles. "The Low Spark Of High Heeled Boys" (the title taken from a comment made by actor J. Michael Pollard), "Shoot Out At The Fantasy Factory" and "When The Eagle Flies" (pictured), brought Traffic a measure of commercial acceptance. The group then splintered with members working on other projects.