It must have been difficult for The Church starting in '80 while their fellow Aussies, the Little River Band and Air Supply, were choking the airwaves. The Church didn't Rock as hard as AC/DC, who came earlier, or INXS who followed, and they certainly had nothing in common with the MOR pop of LRB or Air Supply.

Steven Kilbey (bass, keyboards, vocals), Marty Wilson-Piper (guitar, vocals), Peter Koppes (guitar, vocals) and Richard Ploog (drums, vocals) comprised the original line-up. Jay Dee Daugherty took over on drums in the '90s.
The Church, though popular in their native land, had a tougher time in the States due in large part to their often diverse, free-form approach. They tended to favor thoughtful and meandering acoustic oriented songs. The Church could be moody and gloomy but also lush and textured.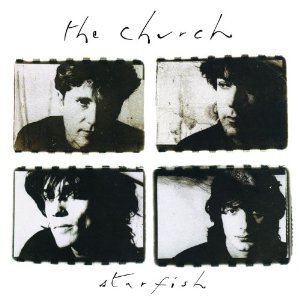 Easily, their best album (and best-seller going gold in the U.S.) was "Starfish" arriving in '88. The absolute, no question, best song from the set was "Under The Milky Way." Starting as a mournful acoustic number the drums and electric guitar enter building toward a richly layered uptempo climax. It peaked at #24 on the U.S. pop chart but went to #2 on the Billboard Mainstream Rock chart.
From "Gold Afternoon Fix," "Metropolis" with a demanding rhythm and jangling guitars supporting ethereal lyrics was a hypnotic creation. Topping the Alt. Rock chart in '90, it is a classic.