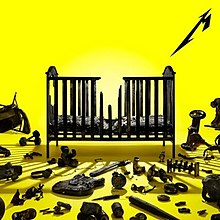 While Metallica's "72 Seasons" rules the U.K. Album Chart, it will debut at #2 on the Billboard 200 (dated April 29th).
Selling 146,000 equivalent album units in the U.S. in its first week of release the set marks the band's 12th Top 10-charting album.
In the U.K., Metallica's eleventh studio effort outsold the rest of the Top 5 combined to become the band's fourth album — and first since "Death Magnetic" in '08 – to top the U.K. chart.
In the U.S., "72 Seasons" is second only to Morgan Wallen's "One Thing At A Time" which is in its seventh consecutive week at the top.
"72 Seasons" Track Listing
01. 72 Seasons
02. Shadows Follow
03. Screaming Suicide
04. Sleepwalk My Life Away
05. You Must Burn!
06. Lux Æterna
07. Crown Of Barbed Wire
08. Chasing Light
09. If Darkness Had A Son
10. Too Far Gone?
11. Room Of Mirrors
12. Inamorata