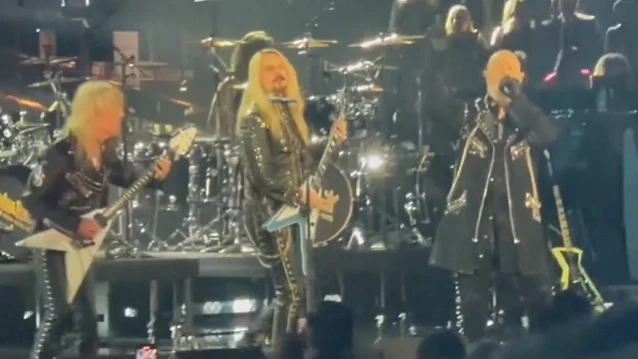 Finally, the Rock and Roll Hall of Fame has inducted Judas Priest!
Reunited with guitarist K.K. Downing and drummer Les Binks, Priest performed a three-song medley of "You've Got Another Thing Comin'," "Breaking The Law" and "Living After Midnight" at the Hall of Fame ceremony (November 5th) at the Microsoft Theater in L.A.
Priest members inducted, with Alice Cooper handling the honors, were Rob Halford (vocals), Ian Hill (bass), Glenn Tipton (guitar) and Scott Travis (drums), along with Downing, Binks and late drummer Dave Holland.
Cooper called Priest the "the definitive Metal band."
Also, Halford joined Country legend and '22 inductee Dolly Parton to perform her classic song "Jolene" aided by fellow honorees Pat Benatar and Duran Duran's Simon LeBon.  
During Duran Duran's induction into the Rock and Roll Hall of Fame, Le Bon reads a letter written by Andy Taylor, the band's original guitarist who is absent from the festivities, that reveals the guitarist is battling Stage 4 prostate cancer.