Jane's Addiction, in its original incarnation (the late 80s – early '90s), was one of those bands that built a large cult following but never reached the masses. Maybe they were better for it.
The band was formed in L.A., by Perry Farrell (vocals), Eric Avery (bass, acoustic guitar), Dave Navarro (guitar) and Stephen Perkins (drums), in the mid-80s as New Wave was in its death throes and Glam Metal was riding high (thanks to MTV).
Incorporating Metal, Progressive Rock and Folk with a heady dexterity Jane's Addiction created sprawling vistas provided by Navarro's guitar and Farrell's progressive lyrics.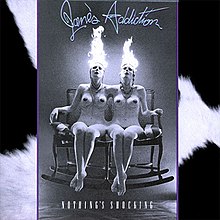 Never one to rehash Rock cliches, Farrell expanded the lyrical horizons taking shots at the current philosophical trends with "Pigs In Zen" or tapping into those moments that everyone has but can never articulate, "Standing In The Shower…Thinking." Both songs, plus the band's best-known song "Jane Says," were on the group's '88 premier effort "Nothing's Shocking."
Two years passed before the release of the band's last studio album with the original line-up, "Ritual De Lo Habitual." Farrell launched Lollapalooza in '91 as a traveling festival. Ironically, it turned out to be a Jane Addiction's (short-term) farewell tour.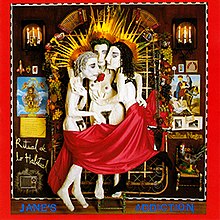 Farrell launched Porno For Pyros who delivered the tongue-in-cheek "Pets" ("we'll make great pets" meaning the human race) as Narvarro landed in the Red Hot Chili Peppers.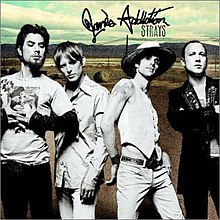 In '97 the Jane's Addiction re-formed with the Pepper's Flea on bass for "Kettle Whistle" which contained unreleased material and new tracks. A tour followed. The group returned in '03 amid much hoopla (a Rolling Stone article and Spin cover) with their album "Strays." Bassist Chris Chaney was the only non-original member.
Jane's Addiction was awarded the Godlike Genius Award for Extraordinary Services to Music at the first U.S. NME Awards in L.A. At the '08 ceremony, the original line-up performed for the first time since '91.

The following year, Jane's Addiction embarked on a joint tour with Nine Inch Nails. The tour had a mishap out of the gate. Farrell tore his calf muscle onstage in Atlanta during the concert's first song. He performed the rest of the set before he was taken to a hospital in an ambulance.

When Jane's Addiction returned to the studio things seemed to take a positive turn. "Duff McKagan from Guns N' Roses is in the band now, so we had a real creative burst over the past few months working with a new guy and having an all-new energy on board," said Navarro. "I'm really excited about it."

Well, after that over-the-top praise it was inevitable that McKagan wouldn't last – and he didn't. Citing creative differences, McKagan left. TV On The Radio's Dave Sitek signed on – though he still remained in TVOTR. "It's a completely different direction for Jane's Addiction," Navarro said. "However, it still sounds very much like Jane's Addiction."

Navarro called Sitek a "stabilizing force" in the studio. Drummer Stephen Perkins added that Sitek "opened up (his) eyes to a lot of new ideas as a drummer."

After all the turmoil, Jane's Addiction finally released their fourth studio set, "The Great Escape Artist." Chaney, who had worked with the band previously (see above), stepped in for Sitek when Jane's Addiction toured.

A short time later, word spread that Jane's Addiction was working on a musical titled "Kind Heaven." However, with the band on hiatus, the project turned into a Farrell vehicle.