Iron Maiden's Bruce Dickinson doesn't want the group added the Rock and Roll Hall of Fame's roster.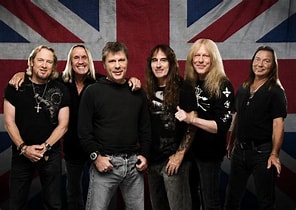 Earlier this year, Iron Maiden was nominated for inclusion in the Hall but lost to Kate Bush, Sheryl Crow, Missy Elliott, George Michael, Willie Nelson, Rage Against The Machine and The Spinners.
In an interview published last Friday by The Telegraph, a U.K. news source, Dickinson stated he didn't want Iron Maiden inducted because "we're not dead yet!"
"We don't give a monkey's (ass) because the people that get us are not the people that run the music business establishment, whatever that is, because that is largely run by people that can't make a living doing anything else," Dickinson continued. "Some people feel almost actively threatened by Metal. Not by the nature of the music. But by the fact that it doesn't conform to their worldview of what pop music should be."
Iron Maiden has been eligible for entry into the Rock and Roll Hall of Fame since 2005 but had to wait until '21 to be nominated for the first time. Obviously, they, along with Rage Against The Machine and New York Dolls, didn't make the cut. Tina Turner, Foo Fighters, The Go-Go's, Jay-Z, Carole King and Todd Rundgren were selected instead.