Where does this story begin? For most, any awareness of Courtney Love or Hole probably began with Kurt Cobain.
Kurt and Courtney, the John and Yoko of the '90s, living in the pop culture spotlight – married with child. "Oh, she's just riding on his fame," was often heard.
Love had founded Hole, along with guitarist Eric Erlandson, in '89, well before she met Kurt.
As Love and Cobain became intertwined, a general consensus solidified. Cobain was a genius and she was not. Also, Hole was a wreck with members departing, either leaving the band or going a step further by from a drug overdose (bassist Kristen Pfaff). They kept going adding Melissa Auf Der Maur.
Then there was "Live Through This" which came out on the heels for Cobain's suicide. Love began to emerge from Kurt's shadow largely because Cobain's shadow was no more. She was being considered on her own merits. "Doll Parts" from that album was one of the most haunting, touching yet defiant songs ever created.
Hole's "Celebrity Skin," an ode to life in that wonderful place known as Hollywood, opened with the title track, a dark reference to fame's underbelly.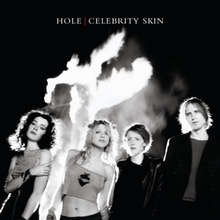 "You want a piece of me?" The "I don't come cheap" reply is perfect. The set was more accessible than anything Hole had ever attempted, especially acoustic oriented "Heaven Tonight," an uptempo, melodic and almost soothing track, with an optimistic lilt not expected from Hole.

In '99, Hole went on tour with Marilyn Manson. What might have looked like a promising match up turned out a disaster. After several confrontations between Love and Manson, not to mention the battles between their audiences, Hole left the tour but kept going. After all, Courtney was a survivor. That was just as true over a decade later.
Love announced in '09 that she was going to resurrect Hole for the first time in eleven years. Some eight months later Hole, consisting of Love, guitarist and songwriting collaborator Micko Larkin, bassist Shawn Dailey and drummer Stu Fischer, played London's Shepherd's Bush Empire (theater). Shows in Milan and Amsterdam followed in support of the long-in-the-works album "Nobody's Daughter."

Lead single "Skinny Little Bitch" was an Active Rock hit even though Love and Erlandson were locked in a debate regarding the use of the Hole name. "Courtney and her management continue to roll along with their plans to, in my opinion, ruin the Hole legacy, just for some cheap thrills," said Eralndson.