In early '06, Mötley Crüe was awarded a star on Hollywood's Walk of Fame. You can't become more establishment than that. New blood was needed to carry on the wayward decadence. And that left the door ajar for Hinder.

It was sex, drugs and Rock n' Roll, not as a motto, but a lifestyle. Of course, that's hard to pull off in dusty confines of their hometown of Oklahoma City, so the idea was to get out.
Hinder built a strong regional following and went the indie route releasing "Far From Close." The album sold over 5,000 copies which led to a major label signing. They ventured north to Vancouver, B.C. to record their '06 release "Extreme Behavior," featuring the Rock ballad "Lips Of An Angel."
The song, which reached the Top 10 on the Billboard Hot 100, nearly wasn't included on the album, much less released as a single. "Our label guy was like, 'Nice song, it sounds like a B-side to me,'" recalled frontman Austin Winkler. "This is not a B-side."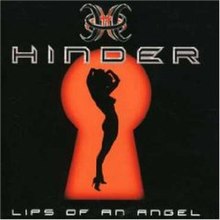 Things took a comic turn when Hinder tore into OK Go for their treadmill-dancing antics at the '06 MTV Video Music Awards. "That's not f**king Rock & Roll," claimed Winkler. "They're a bunch of fairies."

The following year, the video for Hinder's take on Steppenwolf's classic "Born To Be Wild" made its debut on NASCAR.com. The song promoted TNT's coverage of the NASCAR Nextel Cup Series.

Hinder released their sophomore album "Take It To The Limit" on Election Day '08 (Obama vs. McCain) so that fans could "go vote and buy the . . . record," said drummer Cody Hanson.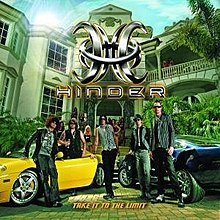 "It's such an exciting day for the rest of the country. We figured we'd give our fans something else to be excited for as well," added Hanson.
"Use Me" was the lead single on what was the band's second and last Top 10 album on the Billboard 200.
While on tour Hinder composed tracks for their '10 album, "All-American Nightmare." "We wrote 70 or so songs, recorded about 50 and cut it down to 12," Winkler explained. "It's something that we've never done before, so it's like our ultimate baby."

Two years later, "Welcome To The Freakshow," containing the single "Save Me," arrived.

On a subsequent North American run, Saving Abel's Jared Weeks did a fill-in stint for Winkler who dropped out for personal reasons.
"We're going to keep the good times rolling on the road this summer," read a band statement. "We have some guests filling in to help us out and promise you won't be disappointed." Drankmore's Marshal Dutton also handled vocals for a couple of the shows.

The "Winkler" issue was resolved in '13 when Hinder announced that the singer had officially left the band. "Although it was a difficult decision, it was the best thing for everyone involved and time for us to move on", said Hanson

"I want to thank each and every one of you all for your love and support over the years, and especially over the last 4 months on my road to recovery," wrote Winkler a short time later. "I'm happy to say I've been sober for 150 days."

Dutton must have done a good job filling in for Winkler because Hinder recruited him after parting ways with Nolan Neal, who had initially been tapped as Winkler's replacement.

"Marshal has been a part of the family since 2009 when he began co-writing/producing on the 'All American Nightmare album', said a band statement. "He has been a co-producer on every Hinder release since, and truly loves this band as we do."

"When The Smoke Clears," was Dutton's recording debut with Hinder. On a tour supporting the '15 release, Hinder's bus was involved in a crash outside Cookeville, TN. Bassist Mike Rodden suffered broken ribs. But a couple of months later the group resumed the trek.

With the tour completed Hinder put out "Stripped," an 'unplugged' EP. The '16 set featured the song "Not An Addict."
"The Reign," the sixth studio album, dropped a year later.