There are a lot of valid reasons for skipping the high school prom but being on tour is usually not one of them. With Greta Van Fleet band members still in high school, the Frankenmuth, MI, based band signed a recording contract with Lava/Republic Records and embarked on a tour to support their EP "Black Smoke Rising."
The three Kiszka Brothers, (twins Joshua and Jacob and younger sibling Samuel) formed the band in '12 with drummer Kyle Hauck, who left and was replaced by Danial Wagner. The band was named after a woman from Frankenmuth and she was fine with it.
The actual Greta Van Fleet was a musician that Hauck's grandfather knew – and though band members knew of her, they had not met the woman who was in her 80s, when they appropriated her name.
Being from Michigan it seemed natural that Greta Van Fleet's song "Standing On" was featured in '14 Chevy Equinox advertisements in the Motor City area.
A few years later, "Highway Tune" was heard on Showtime's "Shameless."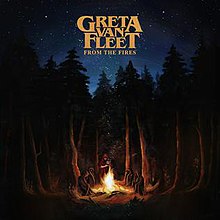 "From The Fires," an eight-song double EP, with four original tracks plus "Highway Tune," proved to be the long-awaited breakthrough.
The '17 set spent five consecutive weeks at #1 on the Billboard Mainstream Rock Radio chart. Another single, "Safari Song," also went to #1. Months later, "From The Fires" took home the Best Rock Album honor at the 61st Grammy Awards in L.A.
Produced by The Rust Brothers(Marlon Young, Al Sutton and Herschel Boone), "Anthem Of The Peaceful Army," Greta Van Fleet's debut full-length effort, contained the lead single "When The Curtain Falls," which became the group's third #1 on the Mainstream Rock Songs airplay chart. "You're The One" soon became the band's fourth #1 on the survey.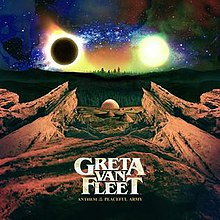 "The Battle At Garden's Gate," Greta Van Fleet's second studio album, a '21 release, was led by the track "My Way, Soon." The set topped the Billboard Mainstream Rock chart (#7 on the Billboard 200).
The band's first two albums topped Billboard's Rock Albums chart and landed in the Top 10 on the Billboard 200.
Greta Van Fleet's third album "Starcatcher," dropped in summer of '23. "The record is our perspective and sums up where we are as a group and individually as musicians," stated guitarist Jake Kizska.
The set featured "Meeting The Master," "Sacred The Thread" and "Farewell For Now."
"Starcatcher" was recorded at RCA Studios in Nashville.