Three years after Chicago's Fall Out Boy formed Island Records provided an advance for the group's major label debut "Take This To Your Grave."
'05 release "Under The Cork Tree" led to an extensive tour. F.O.B. even won a Road Woodie (Best Tour) at the student-selected mtvU Woodie Awards held in New York.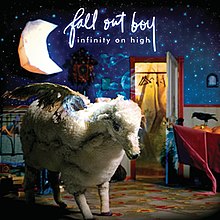 "Infinity On High" dropped in early '07. The album's title had an artistic reference. "It's taken from a quote by Vincent van Gogh," said bassist Peter Wentz. The first single was "This Ain't A Scene, It's An Arms Race."
Having just started thinking about F.O.B.'s next album, Wentz was interviewed by MTV News. "I want our record to be like an AC/DC album or a White Stripes album." Then, Wentz amended that a bit. "Actually, I'm just kidding about that. Well, I was kidding about the White Stripes part. Not AC/DC."

F.O.B. issued "Folie á Deux" just before Christmas, '08. The album's title literally means a "madness shared by two." It fit the moment.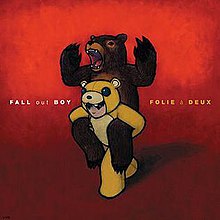 Wentz got the ball rolling with his February, '09 blog where he stated that he wasn't sure F.O.B. would ever play together again stating "as a band we grew apart." Guitarist/vocalist Patrick Stump, who was working on a solo album responded by writing, "I'm not in Fall Out Boy right now."

Likely the root of the problem was the "failure" of "Folie á Duex." F.O.B. was a platinum act – album sales over 1-million copies. However, "Folie á Duex" logged a little over 400,000. Respectable, but not up to standards.

Wentz concluded the discussion of F.O.B.'s future by writing, "If it's fun for everyone to do again, we're going to do it."

The end result was an "indefinite hiatus." To fill the void, Stump finished his solo album while guitarist Joseph Trohman and drummer Andrew Hurley formed Damn Things. After a spell, Wentz weighed in with his own band, Black Cards.

That "indefinite hiatus" ended in '13 when the group recorded "Save Rock And Roll," their fifth full-length studio album. "This isn't a reunion because we never broke up," claimed the band's website.
Many surmised that the reactivation of Fall Out Boy was driven by the negative reaction to Wentz and Stump's side projects. "Save Rock And Roll" set things right with U.S. sales of over 3-million albums.
Months later, F.O.B. released "Pax Am Days," a mini-album with Ryan Adams. The set was recorded at Adams' Pax AM studios in Hollywood.

To promote their sixth studio effort, "American Beauty/American Psycho," F.O.B. led with the single "Centuries," which premiered on BBC Radio 1.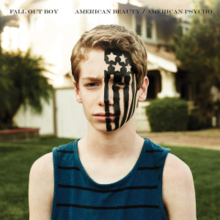 "(The album is meant) to capture the threshold between the American beauty and the American psycho . . . what rages on the inside, how what we all feel is permanent and impermanent all at once," read a band release.
"American Beauty/American Psycho" was Fall Out Boy's 3rd #1 on the Billboard 200 album chart ("Infinity On High" and "Save Rock And Roll" were the first two).
"Mania," Fall Out Boy's seventh studio effort, was originally slated for release in '16 or '17. But the album didn't arrive until early '18 because it was pushed back so the band could rewrite most of the songs and improve the performances. It proved to be a good decision with the album going to #1 on the Billboard 200.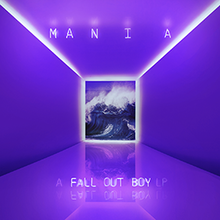 The album produced five singles with "The Last Of The Real Ones," "Hold Me Or Don't" and the lead single "Young And Menace" cracking the Top 10 on Billboard's Hot Rock Songs Chart. But there was a hitch.

Furry Puppet Studio Inc., the stuffed animal company that developed the life-sized llama puppets seen in the "Young And Menace" video filed a suit in Manhattan federal court. They stated that F.O.B. only had permission to use the puppets in the video but had illegally exploited the puppets by featuring them in other videos and on their tour. The case was later dismissed with prejudice.
"We wanted to get back to the way we used to work," said Stump of F.O.B.'s eighth studio album, "So Much (For) Stardust."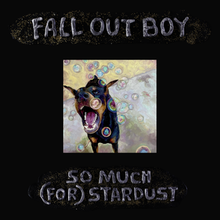 He added that the album was an imagining of "what would it have sounded like if we had made a record right after "Folie à Deux" instead of taking a break for a few years. It was like exploring the multiverse. It was an experiment in seeing what we would have done."