There are some groups so "on trend" it's scary. MTV, launched in the early '80s, was initially in dire need of content. Equally important, they needed to find musicians who "got it." Artists who understood making a video was more than standing in front of a camera lip-synching. Enter Duran Duran from Birmingham, England.

Duran Duran's first videos were controversial due to sexual content. Later videos, with larger budgets, featured exotic locations and costumes.

Keyboardist Nick Rhodes and bassist John Taylor formed Duran Duran in '78, taking the name from a character in Roger Vadim's sci-fi flick "Barbarella," starring his one-time wife, Jane Fonda.
Over subsequent months members came and went with drummer Roger Taylor signing on and guitarist Andy Taylor recruited through a Melody Maker (a music trade paper) ad.
A drama student and former singer with the Punk oriented Dog Days, Simon LeBon, completed Duran Duran.
Soon the group attracted a loyal following, signing a recording contact with EMI and releasing their first single "Planet Earth" which cracked the U.K. Top 20. The next single "Girls On Film" reached the Top 10 despite the BBC's ban of the racy accompanying video. No matter, the group's self- titled debut album stayed on the charts for over two years.
Building on that success, Duran Duran recorded and released their sophomore effort "Rio" in '82. The title track, "Hungry Like The Wolf" and the ballad "Save A Prayer" made them European stars. It was time to set their sights on the U.S. market.
The "Hungry Like The Wolf" video with its jungle motif and "Rio" filmed on a sailboat in a tropical setting, plus the group's fashion sense and LeBon's pouty good looks won them maximum MTV airplay. Third single, "Is There Something I Should Know" lodged in the U.S. Top 10 and became Duran Duran's first U.K. #1.

Musically, Duran Duran was a tight unit treading the line between Rock and Pop. Keyboards were at the heart of the sound. John Taylor's guitar was ever-present but didn't dominate.

By '83 and the release of "Seven and the Ragged Tiger," Duran Duran had moved in a decidedly Dance/Rock direction with "The Reflex," "Union Of The Snake" and "New Moon On Monday."
Following an eighteen-month world tour Duran Duran released the live "Arena" album which also contained the studio recorded hit "Wild Boys," another pseudo-dance track. They also provided the theme song for the James Bond flick "A View To A Kill."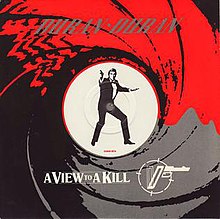 While these efforts were commercially successful, it was evident the group was losing steam, so they took a break.

Andy and John Taylor formed Power Station with Robert Palmer and drummer Tony Thompson. In the meantime, Rhodes, LeBon and Roger Taylor launched Arcadia which managed a hit single, "Election Day" from their "So Red The Rose" album.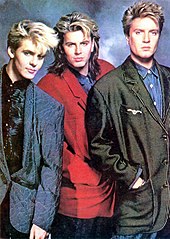 Duran Duran re-formed as a trio (Rhodes, John Taylor and LeBon) and produced three albums, each doing worse commercially than the previous one. The group returned in '93 with a self-titled album and a pair of hit ballads, "Ordinary World" and "Come Undone."