Def Leppard played their first gig in '78 and were recording the following year. While doing passably well in their native U.K., they didn't have much impact elsewhere and found themselves stuck in the "opening act" slot.
Enter Robert John "Mutt" Lange who had built a reputation as a highly successful producer. His main function was to guide a group through the recording process.
"High 'n' Dry" in '81 was Lange's debut with Leppard and "Bringing On The Heartache" was the standout track. With a successful album Leppard hit the road. But guitarist Pete Willis was having problems with his bandmates and troubles with alcohol. He was fired and replaced by Phil Collen.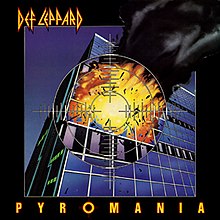 With Lange producing for a second time, Def Leppard recorded "Pyromania." With "Rock Of Ages" and "Photograph," the album was hugely successful. Def Leppard had arrived. And that's when things started to crumble down.
First, Lange who'd been working with The Cars ("Heartbreak City") and Foreigner ("4") was not up to taking on a new project when Leppard was ready to record so the band hired Jim Steinman (Meat Loaf). Those sessions failed to yield anything worthwhile. Soon Steinman was let go and the band decided to wait on Lange.
In the meantime, drummer Rick Allen, while racing another car on A-57 highway near Sheffield, crashed his Stingray. The impact tore off his left arm and seriously injured his right. At the hospital doctors managed to sow the arm back on only to have to remove it days later due to a serious infection. That might have ended the drummer's career but Allen, with the aid of computers and a custom-built drum kit, was able to continue.
Three years in the making, "Hysteria," had six singles: the title track, "Animal," "Pour Some Sugar On Me," "Love Bites," "Rocket" and "Armageddon It." Commercially, "Love Bites" was the most successful, topping the charts, but "Hysteria" was the best song.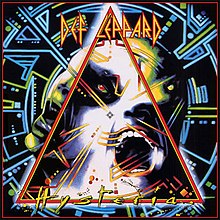 Following a downward spiral into drugs, guitarist Steve Clark was found dead by his girlfriend in '91. He died from a combination of alcohol, painkillers and anti-depressants.
Former Dio/Whitesnake guitarist Vivan Campbell was added to the line-up.

Produced by the group "Adrenalize" rolled out in '92. "Let's Get Rocked" and "Stand Up (Kick Love Into Motion)" were two reasons the album sold over a million copies.

During their '06 tour, Def Leppard had a backstage area for working on new songs. "It was a mini (drum) kit, mini amps, a tape recorder and sparkly lights," said Elliot. That led to the nickname the "Sparkle Lounge."

Because nobody could come up with a better name Def Leppard's '08 release was titled "Songs From The Sparkle Lounge." "The whole record has got a great '70s feel," said Elliott. "It's a very different album as we've been very adventurous, musically, on certain numbers."

The set's first single, "Nine Lives" featured Country singer Tim McGraw, who co-wrote the song with Elliott, guitarist Phil Collen and bassist Rick Savage. The track was released as part of a downloadable "track pack" for the Guitar Hero III: Legends of Rock video game.

Allen, drawing on his personal experience, began his involvement with wounded veterans suffering from post-traumatic stress disorder (PTSD). Over the years, Allen invited Wounded Warrior Project participants to Def Leppard's shows and took part in Project Odyssey, an outdoor rehabilitative retreat.

Def Leppard was inducted into the Rock and Roll Hall of Fame in 2019. But the story didn't end there.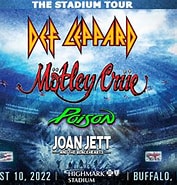 At the end of the year, "The Stadium Tour," a co-headlining North American trek with Mötley Crüe was announced. But the COVID-19 pandemic delayed it until 2022. When "The Stadium Tour" happened, with supporting acts Joan Jett & The Blackhearts and Poison, it grossed over $175-million.