Supergroup #12 or Asia came about when Carl Palmer (formerly of ELP), Steve Howe (of Yes fame), John Wetton (King Crimson alum) and Geoff Downes joined forces.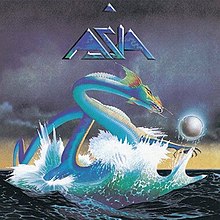 By the early '80s, the supergroup concept was a bit shop worn but these Art-Rockers managed four memorable songs. Two are on their self-titled debut ("Only Time Will Tell" and "Heat Of The Moment") and two are on the follow-up "Alpha" ("Don't Cry" and "The Smile Has Left Your Eyes").
The original line-up didn't hang together all that long. Another ELP vet Greg Lake replaced Wetton but it wasn't two years before Lake was gone and Wetton was back. Howe took off next only to return briefly in the '90s.
A summation of the band's most commercially successful period, "Then & Now" dropped in '90.
Live and studio albums and over a dozen personnel changes marked the band's career in the 1990s – 2000s.