Alice In Chains did everything a Grunge group should do. They formed in Seattle, landed a recording contract (Columbia Records), had drug problems, released an Unplugged set (in '96), had a hit ballad ("No Excuses") and did a Lollapalooza tour ('93).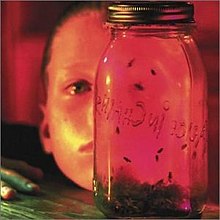 The band's first release was the five song EP "We Die Young." Their third EP, the seven-song collection "Jars Of Flies" with "No Excuses" was both an artistic and commercial success. "Jars Of Flies" was recorded in seven days and had the distinction of being the only EP to ever top the Billboard album chart.
Their first full-length set, "Facelift," had "We Die Young." A live performance at Seattle's Moore Theatre became "Live Facelift" with the album and film sold together. But their best full-length effort was "Dirt," released in '92 with "Rooster" and "Would?"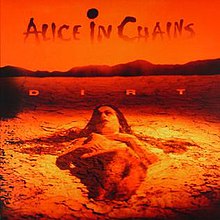 Following "Dirt" bassist Mike Starr left and was replaced by Mike Inez. With "Grind" leading the way "Alice In Chains" appeared in late '95. The album went to #1 on the Billboard charts later that year.
Staley's downward spiral became apparent as he became increasingly reclusive. His appearance, a symptom of his drug addled state, declined.
After no one had heard from Staley for over two weeks police, accompanied by family members, went to Staley's condo. The singer was found on a couch with the TV flickering and drugs and drug paraphernalia scattered around the room. According to the medical examiner's report, Staley had been dead for two weeks and determined he had passed away on April 5th, '02, after injecting a "speedball" (a combination of heroin and cocaine).

Alice In Chains had come to a halt before Staley's death but his passing seemed the final note. Not so. A few years later, the band was able to resurrect itself.
They enlisted vocalist William DuVall as Staley's replacement and launched an '06 tour. "Nobody… wants to, in any way, disrespect or sully (Alice In Chains') legacy," said DuVall. "You want to add to it."

"Black Gives Way To Blue" featuring the singles, "A Looking In View," "Your Decision" and "Check My Brain" dropped in September, '09, eleven months after the project began. "These songs (on the album) will strike a chord and make a similar impact on all of you out there that were moved by this band in the first place," claimed an Alice In Chains blog.
"Check My Brain," the second single from the album, was written by Cantrell. The self-referential track dealt with being a recovering addict who moved from Seattle to L.A. – into the "heart of the (drug culture) beast." The "sick" guitar and Duvall's "oblivion" vocals gave the song an unsettling edge. It topped the Billboard Hot Mainstream Rock Tracks, AIC's first #1 on that survey since '94's "No Excuses."
The song was also nominated for a Grammy in the Best Hard Rock Performance category but didn't win making Alice In Chains the act with the most Grammy nominations (8) to never win an award.

Even so, few 'comeback' albums were as successful as "Black Gives Way To Blue." Within seven months the album was certified gold – selling over 500,000 copies in the U.S. and over a million worldwide.

Undercutting Alice In Chains triumphant return was news that Starr had been found dead (on 3/8/11) in his Salt Lake City home. There was uncertainty as to whether his death was due to a combination of methadone and anxiety medication or two different types of antidepressants.
It was '13 before Alice In Chains issued their fifth album, "The Devil Put Dinosaurs Here." "It's got all the elements of any record we've put out, but it's unlike any record we've put out," explained Cantrell."
The album debuted at #2 on the Billboard 200 (behind Daft Punk's "Random Access Memories").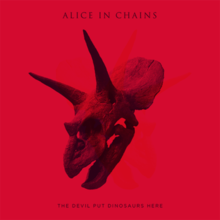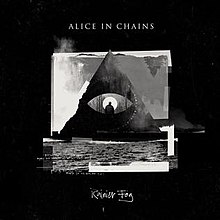 "Rainier Fog," the band's sixth studio effort, was recorded in L.A., Nashville, and for the first time in more than 20 years, in the band's hometown of Seattle. Inspired by Mount Rainier, a mountain/volcano to the south of the city, the title track was a tribute to the Seattle music scene.
"Rainier Fog" was also Alice In Chains' third collaboration with Nick Raskulinecz, making it the first time they had recorded more than two full-length studio albums with the same producer.
The third time must have been the charm since it was the band's first album to crack the U.K. Top 10 (#9) – it peaked at #12 on the Billboard (U.S.) chart.