Stevie Nicks says she sees "no reason" to continue Fleetwood Mac without keyboardist and co-vocalist Christine McVie, who passed away last year. The band last performed together four years ago ('19).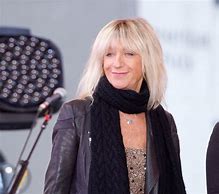 "When Christine (pictured) died, I felt like you can't replace her," Nicks told Vulture. "She was like my soul mate, my musical soul mate, and my best friend that I spent more time with than any of my other best friends outside of Fleetwood Mac. Christine was my best friend."
Nicks is currently on a solo tour North American tour.