8/1 COVID-19 sidelines Sevendust guitarist John Connolly. The tour's opening dates (in Buffalo and Asbury Park) are the first shows he misses in his entire career with the band.
8/1 Heavy rains turn Germany's Wacken Open Air into a mudfest. Initially, cars and trucks are banned before the expected 85,000 in attendance is limited by organizers to 50,000. Iron Maiden, Megadeth and Killswitch Engage are among the performers.
8/2 "Call Of Duty: Modern Warfare II" and "Call Of Duty Warzone" unveil Oz, a playable character based on Five Finger Death Punch guitarist Zoltan Bathory who calls the honor "pretty cool." To complete the shooting of the necessary photos and videos required Bathory's participation in a number of 15-16 hour days.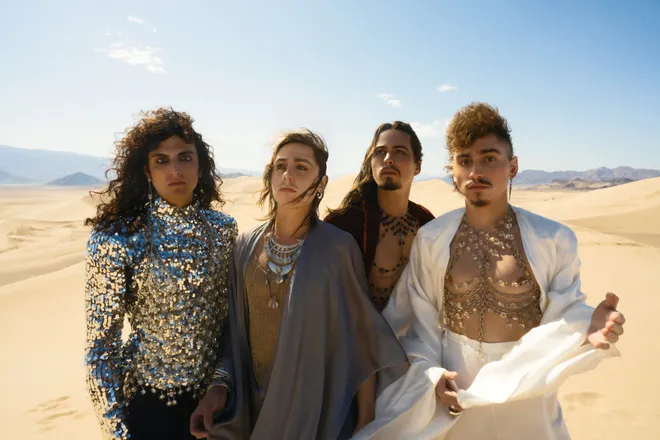 8/3 Greta Van Fleet's "Starcatcher" is #1 on Top Rock Albums, Top Hard Rock Albums and Top Rock & Alternative Albums charts.
8/3 Iron Maiden drummer Nicko McBrain says he suffered a stroke the previous January that left him partially paralyzed. At 70% he is able to perform on the band's summer tour.
8/5 Staind's "Lowest In Me" is #1 on Billboard's Mainstream Rock Airplay chart. The comeback single, the band's first since '11, is from their eighth studio album, "Confessions Of The Fallen."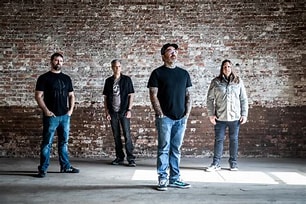 8/5 After 28 weeks on the chart, Pierce The Veil's "Emergency Contact" finally makes it to #1 on Billboard's Alternative Airplay listing. The song is from the band's fifth album, "The Jaws Of Life."
8/5 Former Lostprophets vocalist Ian Hawkins is beaten and stabbed at HMP Wakefield in the U.K. after being held captive by other inmates during a prison rampage. Prison guards use stun grenades to eventually free Hawkins, who is serving a lengthy sentence for child sex crimes. He is taken to a hospital.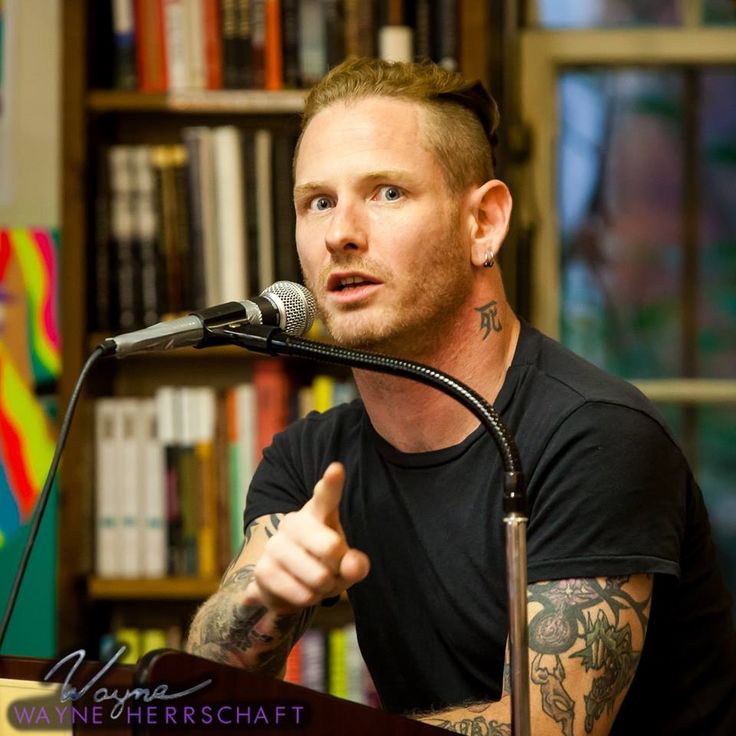 8/7 Corey Taylor (Slipknot/Stone Sour) speaks out about mental health during an interview. "I would tell my 18-year-old self that it's going to be okay, because no one ever f*cking told me that. And anyone who needs to hear that, right now, listen to me. It is going to be okay, no matter what is going on, it is all temporary."
8/8 Scott Ian (Anthrax) is named a celebrity ambassador for the DriveH2 campaign, a public service initiative promoted by Energy Independence Now (EIN), an environmental nonprofit that supports planet-friendly projects and zero-emissions.
8/8 The four members of Turnstile are on the mound for the ceremonial first pitch prior to a Baltimore Orioles game at Camden Yards. Guitarist Pat McCrory tosses the ball with the remaining band members in support. The Houston Astros beat the Orioles 7-6.
8/9 Robbie Robertson, who made his mark as the leader of the influential Rock group The Band, dies after a long illness. The singer/guitarist was 80.
8/10 W.A.S.P. frontman Blackie Lawless undergoes successful surgery to treat two herniated discs and a broken vertebra. He was injured during the European leg of W.A.S.P.'s 40th-anniversary tour.
8/11 Metallica's All Within My Hands foundation donates $200,000 to provide relief to those affected by the wildfires that devastated the Hawaiian island of Maui. The grant goes to the Maui Strong Fund established through the Hawai'i Community Foundation (HCF).
8/11 Some fans attending a Ghost concert at the Hollywood Casino Amphitheatre in Maryland Heights, MO are stopped because the venue does not allow "face paint or masks covering the face." Members of Ghost use face paint/masks and fans regularly replicate the look. Concert goers are told to either remove the paint, which many do, or miss the show.
8/17 YouTube cancels a pending takedown of Dragonforce's "Valley Of The Damned" following a YouTube user's erroneous claims of song ownership.
8/18 Boycott over? In a video released by TMZ, Kid Rock is seen drinking a can of Bud Light, just months after the musician made a public display of boycotting the brand by shooting up cases of the beer to protest the brand's partnership with transgender Dylan Mulvaney.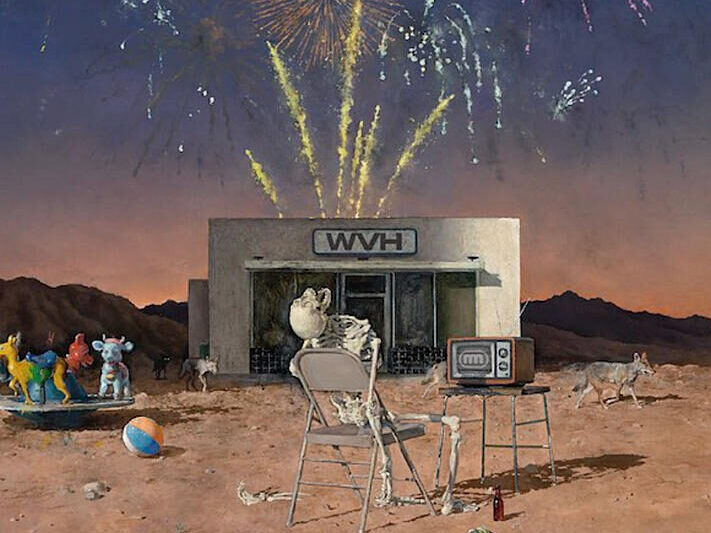 8/19 "Mammoth II," the sophomore album by Wolfgang Van Halen's Mammoth WVH is #1 on Billboard's Rock Albums and Hard Rock Albums charts.
9/19 Disturbed scores another #1 on Billboard's Mainstream Rock Airplay with "Unstoppable." The band's 12th chart topper is from their eighth album "Divisive."
9/19 Queen's "Fat Bottomed Girls" is dropped from the group's "Greatest Hits" collection on Yoto, an audio platform aimed at children. "Please note that the lyrics in some of these songs contain adult themes," states Yoto.
8/19 The Twitter (X) account of Kellin Quinn, Sleeping With Sirens lead vocalist, is hacked and followers are spammed with posts claiming to be selling laptops. Quinn's account is later restored.
8/21 Hoobastank's "The Reason" rolls past the one-billion YouTube views. Released in '04, it's the title track from the band's second studio album.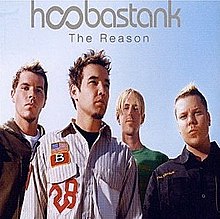 8/21 For the second time in less than a month Disturbed gets drenched (this time in Camden, NJ) when a pyro display during the closing song, "Inside The Fire" sets off the venue's emergency sprinkler system, pouring water all over the group and stage. The same thing happened July 27th during a concert in Houston, TX.
8/22 John Corabi, former lead singer of Mötley Crüe, plays his first concert with The Dead Daisies since his return to the band earlier this year. It's at Mickey's Black Box in Lititz, PA.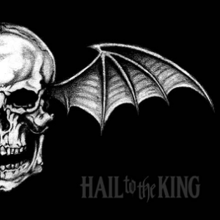 8/23 Avenged Sevenfold's single "Hail To The King" is certified triple platinum by the Recording Industry Association Of America (RIAA) for accumulating three-million certified units moved.
8/23 Nevada governor Joe Lombardo says he wants AC/DC to play at half-time during the 2024 Super Bowl at Allegiant Stadium in NV. 2023
8/24 Queens Of The Stone Age (QOTSA) announce – via social media – the cancellation of their appearance at upcoming The Town Festival in São Paulo, Brazil due to "medical recommendations" regarding a band member's illness. This news unleashes a barrage of negative and accusatory comments from angry fans. QOTSA responds stating, "The audacity in this comment section is disappointing, someone is sick and your response is 'PLAY MONKEY, PLAY'! I mean, wtf?"
8/24 Vampyre Cosmetics, a makeup collection named after Alice Cooper, ends their brand partnership with the Shock Rocker after he is quoted saying that he's afraid transgender has become a fad. "It's gone now to the point of absurdity," adds Cooper." "We stand with all members of the LGBTQIA+ community and believe everyone should have access to healthcare," reads a Vampyre Cosmetics statement.
8/24 Original Whitesnake guitarist Bernie Marsden dies at the age of 72. He was with the band from '78 to '82.
8/25 One day after former president Donald Trump is booked in Georgia's Fulton County jail (in Atlanta), Green Day offers a limited-edition t-shirt featuring the first mugshot of the former president who was arrested on felony charges for allegedly participating in a conspiracy to overturn his '20 election loss in Georgia – a state that would have helped tip the scales in Trump's favor had he won it. Proceeds go to Greater Good Music, to bring food to those affected by the recent Maui wildfires.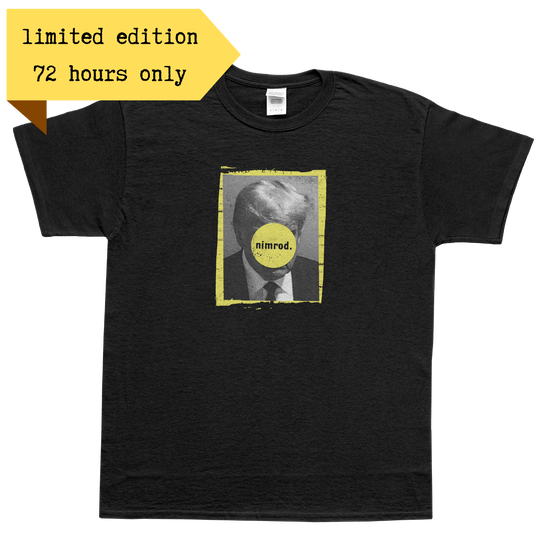 8/27 It is next man up when Five Finger Death Punch singer Ivan Moody comes down with a "terrible flu" and is forced to miss a concert in L.A. – opening for Metallica. Phil Labonte (All That Remains), Howard Jones (ex-Killswitch Engaged) and AJ Channer (Fire From The Gods) fill-in.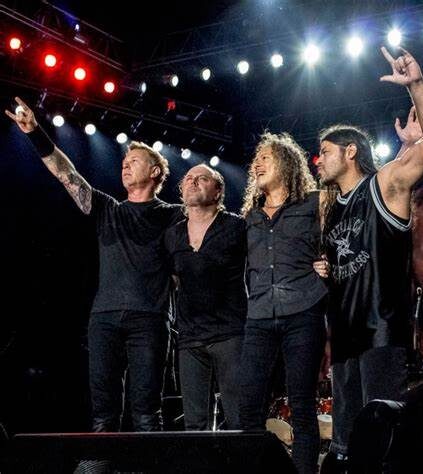 8/27 Metallica sets an attendance record for SoFi Stadium in L.A. More than 156,000 tickets are purchased for the two-concert stand during Metallica's "M72" world tour.
8/29 Ghost cancels shows in Jacksonville and Tampa as Hurricane Idalia hits Florida's Gulf Coast. In addition to damage caused by high winds there is also extensive flooding.
8/30 Steel Panther are eliminated from "America's Got Talent."  Though they fail to become one of the Top 10 finalist (didn't get the votes) in the talent competition, they do raise their profile. 
8/30 We Came As Romans guitarist Josh Moore's hotel room is robbed following the launch the band's Australian tour in Adelaide. After barricading himself in the room the thief flees by jumping out of the fifth-floor window sustaining "serious injuries." Police recover Moore's stolen passport.
8/31 Metallica's ballad "Nothing Else Matters" joins Spotify's Billions Club. First launched in '20, the Billions Club includes all of the songs on Spotify that have surpassed a billion streams on the service.