The legendary Jerry Lee Lewis, "The Killer," has died.
His passing came at his home (on October 28th) in DeSoto County, MS. He was 87.
The combination of his pounding boogie-woogie piano and Country/Blues vocals that were as smooth as aged bourbon with a kick delivered the landmark hits "Whole Lotta Shakin' Goin' On," "Great Balls Of Fire" and "Breathless."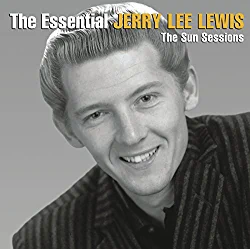 His incendiary performing style would have given Elvis Presley a run for his money in the '50's if a scandal (married to this 13-year-old second cousin, Myra – the third marriage for Jerry Lee – both pictured above) hadn't short-circuited his career.
Shunned by the Pop and Rock worlds Jerry Lee turned to Country and had several hits before returning to Rock n' Roll.
His "you better pay attention" attitude, supreme confidence and hard-living demeanor was Punk decades before Punk.
Naturally, he is in the Rock and Roll Hall of Fame.