Hailing from Port Arthur, Texas, Janis Joplin had a lot of hurt and resentment. She was, through her youth, seen as different or crazy by the locals. At age seventeen she fled.
Joplin had taken an interest in poetry and Folk singing. Along the way she picked up an appreciation for Blues and was influenced by Bessie Smith. Later as a Rock star, Joplin bought a proper marker for Smith's grave. Nice gesture. Drugs ruined both lives, but they had a stronger connection, Joplin and Smith lived and died exactly the same way, alone.

Like many people looking for a better life, Janis found herself in California. She wandered around the coast in '66 singing her combination of Folk/Blues. It just so happened there was a band looking for a lead singer but Joplin's quiet, introspective and sincere coffeehouse music approach didn't compliment the overblown guitars of Big Brother & The Holding Company. She decided to Rock.

The band was invited to perform at the Monterey Pop Festival in '67 (The Who & Jimi Hendrix were also on the bill). The band's performance was raunchy, out of tune and loud. Joplin, however, was incredibly forceful. Her style and emotion got the group signed to a major label record deal. Clive Davis, then president of Columbia Records, had gone to Monterey looking for talent to make his record label more contemporary.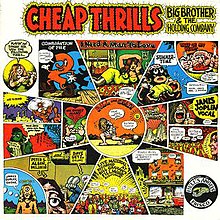 The first Columbia album (there had been a small label release earlier) was entitled "Cheap Thrills" with cover art by R. Crumb. The record begins with an introduction by the Fillmore's Bill Graham. "Four gentlemen and one great, great broad, Big Brother and the Holding Company." They kick into "Combination Of The Two." However, the songs that stand out most are "Piece Of My Heart" and "Ball And Chain." Both show Joplin and her most expressive and dynamic.
It's expected that lead singers are the focal point of a group. However, in some cases the singer's talent and popularity eclipses the rest of the group. This is exactly what happened to Big Brother. The band had always been rapped for being sloppy and not up to Joplin's level in terms of talent or performance. So Janis left.
Her first backing band, Kozmic Blues Band didn't work but the second, Full Tilt, did much better and produced the "Pearl" album which featured Joplin's best known solo song, "Me And Bobby McGee," written by Kris Kristofferson, and "Move Over."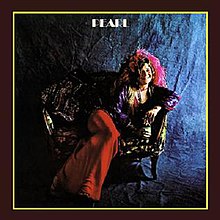 There should be more to the story but there isn't. Janis died of a drug overdose on October 4th, 1970 (age: 27). You could say she was a lonely girl who became a lonely woman but had an ability to connect with her audience in a way few performers have or will.
Nearly 30 years after her death, Joplin was the subject of the weeklong Rock and Roll Hall of Fame and Museum's 2009 American Music Masters series (in Cleveland). There were Joplin tribute performances and interviews with people who knew and/or worked with the singer. "I am touched, as is the rest of the family, that Janis' musical and social power continue to inspire and remain important in the lives of so many," said Joplin's sister, Laura.