INXS started with the Farris Brothers (guitarist Tim, keyboardist Andrew and drummer Jon) in '79. School friends, bassist Gary Beers, guitarist/sax player Kirk Pengilly and vocalist Michael Hutchence soon came on board. Interestingly, this line-up remained intact through the band's lengthy history ('79 to '97).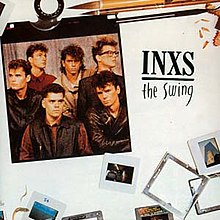 Honing their act, INXS (in excess) set out on a rigorous tour of their native Australia. They began recording the following year and signed a deal with Warner Records in '83. It was their second Warner recording "The Swing" that brought them to the forefront.
It contained "Original Sin," (with the video showing Hutchence perched on a motorcycle), that established INXS. Hutchence came dangerously close to being "the new" Jim Morrison.
"Listen Like Thieves," containing the title track, "What You Need" and "This Time," built the band's following. But it was their next effort that made INXS huge.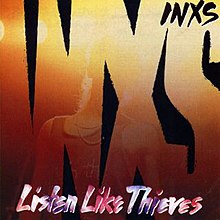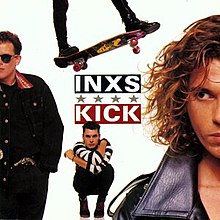 "Kick," which sold six-million copies worldwide could have been a "Greatest Hits" album for most bands – "New Sensation," "Devil Inside," "Need You Tonight," "Never Tear Us Apart," and "Mystify." The '87 set peaked at #3 on the Billboard 200.
INXS continued strong with albums "X" ('90), "Live Baby Live" ('91), "Welcome To Wherever You Are" (pictured), featuring "Heaven Sent" and "Not Enough Time" ('92), "Full Moon, Dirty Hearts" ('93) and "Elegantly Wasted" ('97).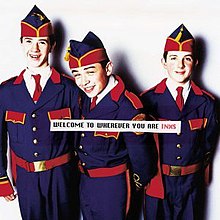 By '95 Hutchence and his girlfriend Paula Yates were regular paparazzi targets. Hutchence's annoyance surfaced when he punched a photographer. Hutchence was dragged into court and paid a fine.
In late ' 97, Hutchence returned to Australia to begin rehearsing for the band's twentieth anniversary tour. He seemed consumed by Yates' child-custody battles with her ex-husband, Boomtown Rat humanitarian, Bob Geldof. On November 22nd, Hutchence was found dead in his hotel room. Cause of death: suicide by hanging – after consuming a mixture of alcohol and drugs. The story should have ended there but didn't.
Rock groups have a tendency to keep going (whether there is public demand or not) replacing deceased or departed members, as if the chemistry can be easily replicated. It can't.
But INXS attempted a new low. They launched "Rock Star INXS" on NBC. The singing competition was similar to the vacuously popular American Idol. The winner got to record an album with the group.

The show sunk in the ratings and was moved to cable. Somebody should have pulled the plug at that point. But there's no stopping musicians bent on humiliating themselves. With the winner, J.D. Fortune, INXS issued "Switch."

If "Rock Star INXS" wasn't bad enough… the band, determined to destroy its own legacy, re-recorded their hits "reimagined" with Rob Thomas (Matchbox Twenty) singing "Original Sin" (the title track) and "Never Tear Us Apart"; Brandon Flowers (The Killers) took a swing at "Beautiful Girls"; and Ben Harper provided vocals for "The Devil Inside."
Didn't anybody realize that Hutchence was irreplaceable?