The duo, White Stripes, hailed from Detroit in the late '90s. Former Country/Rock drummer (with Goober and the Peas) turned guitarist/vocalist, Jack White (born John "Jack" Anthony Gillis) and drummer Meg White used Punk and Blues as their base while incorporating Folk and Art Rock. The idea for White Stripes was to create simple, basic Rock. Done.

Jack and Meg were married briefly with Jack taking the relatively unusual step of adopting his wife's name. For reasons best kept between them the couple divorced but maintained their working relationship.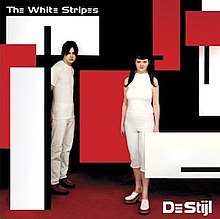 Debut album "White Stripes" came out in '99 and was supported by a North American tour. Sophomore release "DeStijl" hit the following year as the duo toured Japan and Australia. '01 saw the release of "White Blood Cells" containing the popular and highly lauded track "Fell In Love With A Girl."
Two years later, Jack and Meg released the acclaimed "Elephant," containing the hypnotic hit "Seven Nation Army." "I wanted to put 'Seven Nation Army' out as a single," White said in a radio interview years later. "The label in England and the label in America both didn't want to. They wanted to put 'There's No Home For You Here'." Fortunately, White got his way.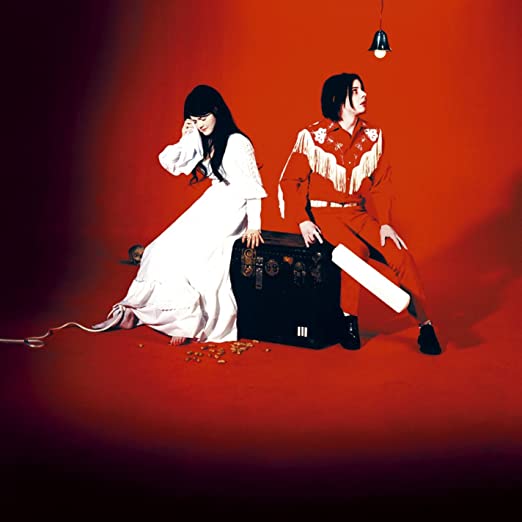 White produced Country legend Loretta Lynn's highly acclaimed and Grammy winning "Van Leer Rose" album. This project led to a timely revelation. "I felt embarrassed that I wasn't hitting these notes," said White. "So I stopped lying to myself that the smoking wasn't doing it." He quit cold turkey.

White also contributed songs to the Bluegrass oriented "Cold Mountain" soundtrack, which starred ex-girlfriend, Renee Zegweller. Jack ended up marrying model Karen Elson in Brazil. Meg served as maid of honor.

Any fears that Jack had gone Country quickly disappeared with the release of "Get Behind Me Satan," in '05, featuring the pulsating first single, "Blue Orchid." Elson appeared in the video.

Starting the Raconteurs with fellow Detroit native Brendan Benson was Jack's next adventure. Though initially labeled as a "supergroup" the band dismissed the tag stating they were actually "a new band made up of old friends." The group released "Broken Boy Soldiers" in May, '06, and went on tour.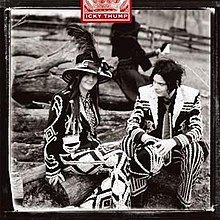 Some were concerned that this new venture spelled the end for the White Stripes (people are always fretting about this band). No worries, Jack and Meg returned in '07 with "Icky Thump" which earned two Grammy awards the following year: Alternative Music Album and Rock Performance by a Duo or Group with Vocal.
White also participated in the documentary "It Might Get Loud" with fellow guitarists Jimmy Page (Led Zeppelin) and The Edge (U2) which premiered at the '08 Toronto Film Festival.

Two years later, another documentary "Under Great White Northern Lights" was available on DVD, CD and vinyl as part of a limited-edition box set. The Emmett Malloy-directed film chronicled the band's '07 Canadian tour.
Though White Stripes had been on hiatus since '07 their final live performance occurred in '09 when they appeared on the final episode of Late Night with Conan O'Brien.
Inevitably, White Stripes announced on 02/02/11 that they had disbanded. "The reason is not due to artistic differences or lack of wanting to continue, nor any health issues as both Meg and Jack are feeling fine and in good health," said the band's statement. "It is for a myriad of reasons, but mostly to preserve what is beautiful and special about the band."