When Smashing Pumpkins were inducted into Hollywood's RockWalk guitarist/vocalist Billy Corgan and drummer Jimmy Chamberlin (the only two original members still in the band) were on hand for the '07 ceremony.
"I'm so used to bad vibes, people hating our band and throwing things at us," said Corgan. "So it's strange to be honored."
Back in '87 guitarist/vocalist Billy Corgan teamed with bassist D'Arcy Wretzky. The duo recorded songs for Sub-Pop. By '91 guitarist James Iha and drummer Jimmy Chamberlin had joined.
That same year their excellent debut "Gish" arrived.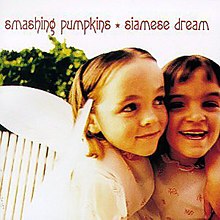 '93 saw the release of "Siamese Dream" which contained "Cherub Rock" and "Disarm," a song that got banned by the BBC for being too "disturbing."
"Disarm" was one of the few truly hard-edged acoustic tracks. Bells ring, guitars chime, Corgan sneers and whips the song to a hostile crescendo.
That song, along with the brilliant "Cherub Rock," made "Siamese Dream" the Smashing Pumpkins' best early album.
Then there was Corgan's wounded, soul-baring reading of Stevie Nicks' "Landslide," on "Pisces Iscariot," a compilation of B-sides and outtakes, caused the Fleetwood Mac singer to ban unauthorized versions of her songs. But Corgan made a wistful, sentimental ballad ache. No small achievement.

You'd have to travel a long road to find a more powerful double album than "Mellon Collie And The Infinite Sadness," which at the time was the top selling double album in history.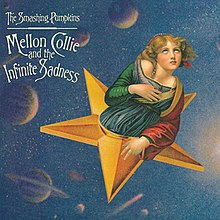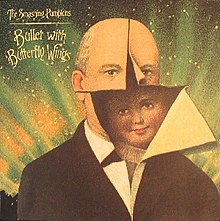 The two sets were labeled "Dawn To Dusk" and "Twilight To Starlight." "Dawn To Dusk" had the ever popular "Tonight, Tonight" and the Pumpkins defining moment "Bullet With Butterfly Wings." "In spite of my rage, I'm still just a rat in a cage." Along with "Disarm," it was one of the group's greatest angst-driven creations.
"Twilight To Starlight" contained the hypnotic "1979" and the thrashing "We Only Come Out At Night."

Even with this artistic and commercial success things took a nasty turn in '96. The Pumpkins' touring keyboard player Jonathan Melvoin died in NY from a heroin OD.
If that weren't bad enough he was getting high with drummer Jimmy Chamberlin who ran into all kinds of legal trouble and just managed to escape getting locked up. But Chamberlin did get himself kicked out of Smashing Pumpkins. Later, a cleaned-up Chamberlin re-joined the group.

Smashing Pumpkins released "MACHINA/The Machines Of God" in '00. The band displayed their patented alternative Rock sound and even dipped into Heavy Metal.
Too bad the Pumpkins' days were numbered. Following a tour the group broke up. Corgan's first post-Pumpkins stop was Zwan. From there he made his '05 solo debut with "TheFutureEmbrace."

Corgan spoke regularly and publicly about wanting to play Pumpkins' songs again (with the Pumpkins) it seemed inevitable the group would re-form.
It took years for both Iha and Chamberlin to return to the fold. But D'Arcy took a permanent pass. Even so, Smashing Pumpkins albums came out including the massive "Teargarden By Kaleidyscope" (44 songs) and "Shiny And Oh So Bright" projects.
Smashing Pumpkins issued 'Act 1' of "Atum: A Rock Opera In Three Acts" in late '22. The line-up of Corgan, Iha, Chamberlin and guitarist Jeff Schroeder recorded the 'opera," billed as a sequel to '95's "Mellon Collie And The Infinite Sadness" and '00's "Machina/The Machine of God."