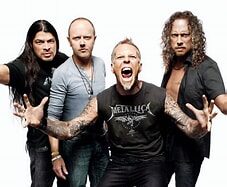 Metallica (originally the title of a proposed Metal magazine) started in L.A. and made their stage debut in Anaheim in early '82. The group was signed by Jersey based Megaforce Records.
They relocated to the greater New York area to be closer to their label's HQ. Just a month later Dave Mustaine was fired and replaced by Kirk Hammett. Mustaine didn't let the rejection get to him and produced a solo album before launching Megadeth.

Moving from Megaforce to Elektra Records Metallica unleashed a series of groundbreaking albums, "Kill 'Em All," ('83), "Ride The Lightening," ('84), "Master Of Puppets" ('86) and "… And Justice For All" ('88). Metallica was the premier Metal group.
While on Scandinavian tour, the bus went off the road and crashed instantly killing bassist Cliff Burton. The other band members were not seriously injured.
'91 saw the release of "Metallica" (aka "The Black Album") containing the group's first Top 20 single, "Enter Sandman." Their fifth studio effort, which also included "The Unforgiven," spent over five-hundred nonconsecutive weeks on the Billboard 200 chart selling 16-million copies.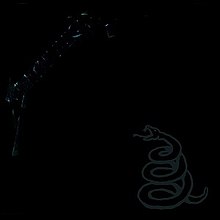 Metallica continued to blast their way into the hearts of Metal fans with "Live Shit: Binge & Purge" ('93) and the classic pair "Load" ('96) and "Re-Load" ('97).
The band released a pair of albums containing unreleased material and covers in '98, "Garage Days" and "Garage Days Revisited" (these albums were later re-released as a double album "Garage, Inc.").
Then there was Metallica's Napster train wreck. Metallica was the first major group to sue the file sharing service for copyright infringement. This did not sit well with fans, many of whom had been downloading songs for years. Metallica was seen in the worst of all possible lights – nothing more than a record industry tool. As this nasty drama played itself out Hetfield entered rehab in '02 for the usual addictions.

Metallica was seriously damaged. But never count them out. The group uncorked one of its best efforts in years, "St. Anger" in '03.

Even with Hetfield back on the straight and narrow, Metallica was still wounded. The answer was group therapy. With an uncanny ability to turn pain into profit (or at least entertainment) the healing process produced the acclaimed '04 documentary film "Some Kind Of Monster."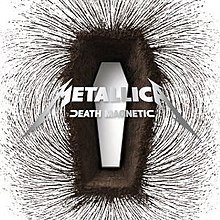 Metallica announced they would be working with Rick Rubin, rather than Bob Rock who'd been the group's producer for fifteen years, on their next effort, "Death Magnetic." Hetfield explained the significance of album's title. "It started out as a tribute to people who have fallen in our business, like (late Alice In Chains frontman) Layne Stayley," said Hetfield. "Some people are drawn towards (death), just like a magnet."

Moving more than 490,000 copies in less than a week, "Death Magnetic" made its debut at #1 on the Billboard 200 chart. Metallica became the first band ever to have five albums debut at #1 on the Billboard 200 (U2, The Beatles and Dave Matthews Band each had four).

Metallica was inducted into the Rock and Roll Hall of Fame in '09.

Of course, Hetfield had the last word. "One of the greatest things is that we're still relevant (and) still making heavy music." And just to prove the point, Metallica's single, "Cyanide," from "Death Magnetic," landed at #1 on Billboard's Hot Mainstream Rock Tracks chart.

It had been eight years since the last full-fledged album when Metallica unfurled their tenth studio album, "Hardwired…To Self-Destruct," a double set that went platinum (one-million sales) during the summer of '17 on the strength of three singles: "Hardwired, "Moth To Flame" and "Atlas Rise" landed on the Mainstream Rock Songs chart. In doing so, Metallica became the first act to simultaneously place at least three songs on that survey since the group last did it in '08.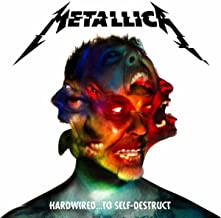 "Atlas, Rise!" eventually became Metallica's ninth #1 on Billboard's Mainstream Rock Songs airplay chart.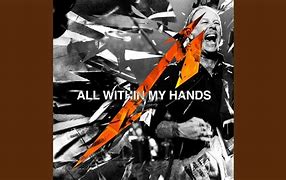 Metallica then received the prestigious Polar Music Prize, Sweden's highest music award.
  Drummer Lars Ulrich and guitarist Robert Trujillo attended the '18 ceremony and accepted the $130,000 prize – 50% of the money went to their charitable foundation All Within My Hands, 25% to the Stockholm City Mission, which supports the homeless, with the remainder going to the World Childhood Foundation and the Afghanistan National Institute of Music. This was one of numerous charitable endeavors the band conducted under the All Within My Hands initiative.
"72 Seasons," Metallica's the eleventh studio album, was released in '23 on the band's own record label Blackened Recordings.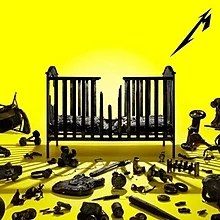 Two songs from the album, "Lux Æterna" and the title track, went to #1 on Billboard's Mainstream Rock Airplay chart.  
The set peaked at #2 on the Billboard 200.