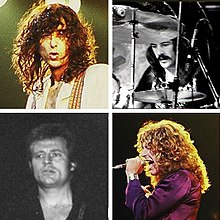 One of the most intriguing things about Led Zeppelin was how hard Jimmy Page had to work to put the group together. Page was a leading session guitarist before he left that job to become the last great Yardbirds' guitarist, following Eric Clapton and Jeff Beck. But when the Yardbirds called it quits leaving the small matter of a Scandinavian tour up in the air, Page, more or less left holding the bag, looked for musicians for the tour but he also had an eye toward building a whole new entity.
The Who's John Entwistle and Keith Moon, Terry Reid and B.J. Wilson of Procol Harum and Yardbirds' bassist Chris Dreja all turned Page down.
But Reid suggested Page check out a young singer named Robert Plant. Plant made the cut and in turn, recommended drummer John Bonham. Another session veteran, John Paul Jones, was recruited and the group toured as the New Yardbirds.
Moon said Page's new band would "go over like a lead zeppelin." A lead balloon wasn't enough; it had to be a zeppelin (the biggest disaster of all). Page liked the phrase and dropped the 'a" out of "lead."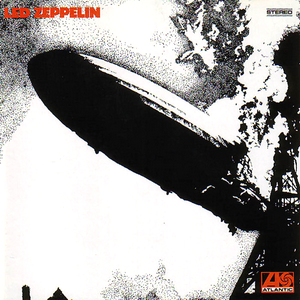 "Led Zeppelin" has more than a passing resemblance to Jeff Beck's "Truth" album. However, with "Communication Breakdown," "Good Times, Bad Times" and "Dazed and Confused" there was more of a Rock, rather than Blues edge. Famous touches like the blending of acoustic and electric instruments appear here and would be further developed. Still, critics were unimpressed.
More time was given to "Led Zeppelin II" even though it was recorded between tour dates. The album, containing "Whole Lotta Love," "Heartbreaker" and "Bring It On Home" cemented the group's reputation has the premier Hard Rock outfit. But rather than capitalize on this, "Led Zeppelin III" took a more acoustic approach. Critics jumped on the album as a sign this "Zeppelin thing" was an abomination that had run its course.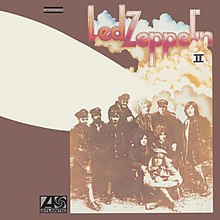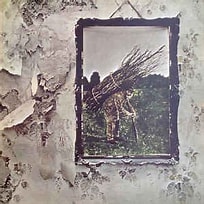 "Untitled" or "Led Zeppelin IV" was the album where Plant became an equal contributor with Page. "Black Dog," "Going To California" and "When The Levee Breaks" are all classics. But the two songs that really stood out were "Rock And Roll" and "Stairway To Heaven." By this time Led Zeppelin was so popular that they had their own touring plane.
Nothing could reasonably follow "Untitled" but Zeppelin gave it a shot with "Houses Of The Holy."  The set featured "Dancing Days," "The Ocean" and Reggae tinged "D'yer Maker."
"Physical Graffiti," a double album, was the first to show the band straining, though it held "Kashmir," "Trampled Underfoot" and the fun "Boogie With Stu."
Through the late '70s Zeppelin continued to record and tour. "Presence" went to #1 on the album charts. They also produced a live album and film "The Song Remains The Same." As a live act, Zeppelin was a bit past their prime.
"In Through The Out Door," another commercial success, contained the very pop "Fool In The Rain." By the time Bonham KO'd himself with drink (vodka), Zeppelin was clearly in decline.
Following Bonham's death (9/25/80) the surviving members wisely decided to call it quits.  Of course, Plant and Page recorded together and all three surviving members performed on special occasions: Live Aid, Atlantic Records' 40th anniversary.