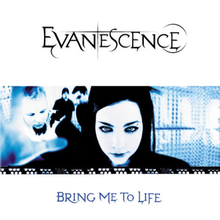 In many groups, two people have a little more history than everyone else. They are usually the ones with a shared vision, who made the sacrifices to build the group and hold it together. In Evanescence, it was vocalist Amy Lee and guitarist Ben Moody. And that was a problem.
Working under the name Evanescence, meaning "a dissipation or disappearance like vapors," Lee and Moody even took a shot at romance, managing to become briefly engaged, before backing off.
Eventually, Moody quit the group in October of '03. He packed his bags prior to a Berlin concert and left the country.
"We both contributed to the resentment of the deterioration of our friendship that quickly turned into a downward spiral of animosity, conflicting opinions, and a very volatile environment," Lee later commented.

Evanescence's full-length debut "Fallen" was released in '03. But prior to that, they got a major break when two of their songs, the ballad "My Immortal" and "Bring Me To Life" were used on the "Daredevil" soundtrack.
Next Evanescence issued "The Open Door" a 13-song effort that represented Lee's maiden effort with guitarist Terry Balsamo. "(After Ben Moody's departure), I didn't have somebody — I don't want to be mean — holding me back," said Lee. "Instead, I had (Balsamo) lifting me up."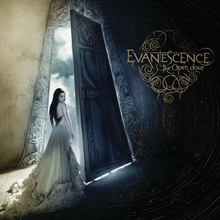 "The Open Door" was a hit selling 447,000 copies in the first week of its release to top the Billboard 200 album chart. But mass success rarely equates to smooth sailing.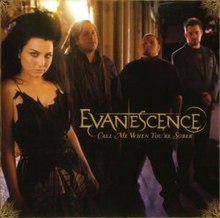 "Call Me When You're Sober" was the lead single. In the accompanying music video, Lee played a modernized Little Red Riding Hood in the company of live wolves.  She explained the track referenced her relationship with ex-boyfriend, Seether's Shaun Morgan.
"The Open Door" was a hit selling 447,000 copies in the first week of its release to top the Billboard 200 album chart. But mass success rarely equates to smooth sailing.
When John LeCompt (guitar) and Rocky Gray (drums) left there were contradictory statements regarding what had happened. Lee said the pair "were ready to move on and so we have parted ways." LeCompt countered, saying he was fired "without any warning." Gray claimed that he quit. Later, Lee returned to the subject adding, "They were very vocal about the fact that they didn't really care about Evanescence at all and just stayed around for the money."
Evanescence (essentially Lee with a new band) issued a self-titled album in '11. "This is a really, really, rhythmically driven record," explained Lee. Evanescence's third studio album featured "What You Want."
Though "Evanescence" sold far less in its debut week than its predecessor – 127,000 copies – that was still enough to propel the album to #1 on the Billboard Album Chart. Evanescence then went on a three-year hiatus.
The break officially ended in July, '15. But just a month later, Balsamo was out and Jen Majura was in. "After two albums, countless adventures around the world and on the stage, Terry's time has come to an end," stated Lee. She went on to describe Majura as the "missing piece."
The fifth studio album, "The Bitter Truth" dropped in '21 and went to #1 on Billboard's Hard Rock Albums and #2 on Top Rock Albums charts. It also was the last album with Majura. In a post, Evanescence stated the decision was made to go "separate ways" while Majura said her exit was not "her decision."
On the heels of Majura's departure the music video for "Bring Me To Life" surpassed one billion YouTube views. The video, uploaded to YouTube in late of '09, was filmed in Romania and featured guest vocals by Paul McCoy.