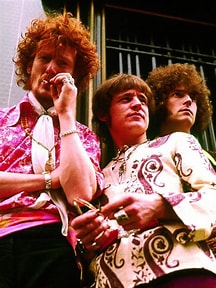 During the '60's, and into the early '70's, guitarist Eric Clapton never stuck with a group for very long. This fact caused great consternation among the lesser lights who were counting on Clapton to be their meal ticket. By the time Cream formed, Clapton had been with the Yardbirds and John Mayall's Bluesbreakers. He played two years or less with each. And Cream was no different.
With the arrival of Jimi Hendrix and the whole psychedelic scene, Cream tossed the Blues in the backseat and joined the parade with "Disraeli Gears."
Following the band's demise, due in part to the inherent limits of the trio concept and Baker and Bruce's constant bickering, two "Cream Live" albums were released in a relentless effort to separate fans from their money.