This Day in History: 2022-07-15
JULY 15th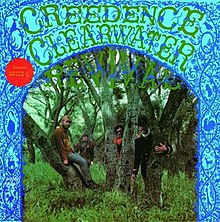 Creedence Clearwater Revival issue their self-titled debut album.  The set contains two extended covers – "I Put A Spell On You" and "Susie Q" and gets to #11 on the U.S. Album chart. 1968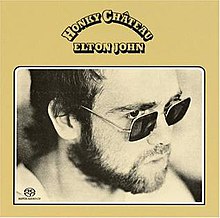 Get back honky cat. Elton John's "Honky Château" tops the Billboard 200. It's the first of Elton's seven consecutive U.S. #1 albums.  1972
The Rolling Stones "Some Girls" album with "Miss You," "Just My Imagination (Running Away With Me)," "Beast Of Burden" and "Shattered," is #1 on the Billboard 200.  1978
Queen's "Bohemian Rhapsody" is the U.K.'s favorite #1 of all-time according to a nationwide poll conducted by Official Singles Chart and ITV. 2012
"Don't Look Back In Anger" by Oasis is #4, edging out The Beatles "Hey Jude" (#5) and John Lennon's "Imagine" (#6). The survey marks 60 years of the Official Singles Chart.
Rise Against unleash "The Black Market." The set debuts at #3 on the Billboard 200. 2014
Journey's seventh studio album, "Escape," is certified diamond by the RIAA, which denotes the album has sold over 10 million equivalent units. Released in '81 the album delivered the hits "Open Arms," "Who's Crying Now" and "Don't Stop Believin'."  2021
MORE TODAY IN ROCK,,,
Linda Marie Ronstadt, the daughter of Mexican-German parents, is born in Tucson, AZ. 1946
Yes founding guitarist, Peter Banks, enters the world. 1947
Drummer Marky Ramone (Marc Steven Bell), of the Ramones, is born in New York City. Well, of course.  1952
Birthday wishes to .38 Special guitarist Jeff Carlisi. 1952
Guitarist Joe Satriani is born. His forte is fusion instrumentals. 1956
Jason Bonham, the son of late Led Zeppelin legend John, is born in Dudley, England. The drummer is known for performing with the surviving members of Led Zeppelin on special occasions as well as being a former member of California Breed and Black Country Communion. 1966
System Of A Down drummer John Dolmayan is born in Beirut Lebanon, to Armenian parents.  1973
Raymond "Ray" Toro, lead guitarist and backing vocalist for My Chemical Romance, is born.   1977
Good Charlotte film their "The Lifestyles Of The Rich and Famous" video. 2002
Former Megadeth bassist David Ellefson sues David Mustaine for $18.5 million in missing profits after the singer/guitarist allegedly backs out of a deal to hand over control of the band's marketing company, Megadeth Inc. Ellefson claims that Mustaine cheated him out of merchandise and publishing royalties after the group's '02 split. Megadeth later re-forms with a different lineup. 2004
The U2 vocalist Bono and Representative John Lewis (D-GA) receive the Freedom Award from the National Civil Rights Museum in Memphis. The award goes to people who have advanced civil rights. 2004
Word comes that David Bowie's A Reality Tour is the top-grossing show for the first half of '04. But emergency heart surgery knocks Bowie off the road. According to Billboard Boxscore, Bowie earned $45.4 million from 82 shows that drew 722,158 fans. 2004
Deryck Whibley, Sum 41's frontman/guitarist, marries singer Avril Lavigne in Santa Barbara, CA. The couple met in '04. 2006
Paul McCartney makes his first-ever guest appearance on CBS' Late Show With David Letterman (in the same theater where The Beatles were introduced to America on the Ed Sullivan Show in '64). As part of his appearance McCartney plays a surprise set atop the theater's marquee (not a rooftop performance but close). And yes, crowds block traffic. Footage from the seven-song mini-concert airs on Letterman. McCartney's visit precedes the launch of a series of U.S. concerts. 2009
Disturbed's David Draiman confirms that the band is planning to go on indefinite hiatus at the conclusion of their tour in support of their "Asylum" album. "We have some things going on internally, we have some personal things going on," says Draiman. 2011
Elton John is presented the Medal of Gratitude during a performance in Sopot, Poland. The honor commemorates Elton's anti-communist efforts and public statements in support of the resistance in the '80s, despite the illegality of such pronouncements. 2012
The Rolling Stones complete their 15-date North American Zip Code tour at Le Festival d'ete de Quebec. The Stones, who play before a record-breaking crowd of 102,000 fans, open their set with "Start Me Up" and close with an encore consisting of "You Can't Always Get What You Want" and "(I Can't Get No) Satisfaction." 2015
Alice Cooper announces is candidacy for President of the United States and Prime Minister of Britain. His Make America Sick Again campaign uses "Elected" as its campaign theme song. Sadly, Coop fails to get the votes.
Lzzy Hale (Halestorm) is the first Gibson guitar female Brand Ambassador. Hale is also named to the Gibson Gives artist advisory council. 2021
Two members of the Sex Pistols (Paul Cook and Steve Jones) sue band frontman John Lydon over the right to use the band's songs in "Pistol," a six-episode miniseries based on Jones's '18 memoir "Lonely Boy: Tales From A Sex Pistol." A prior agreement says any song usage is determined by a majority vote. Jones and Cook's lawyer states in court that his clients have a "brittle and fractious" relationship with Lydon," while Lydon's lawyer claims Jones's book portrays his client "in a hostile and unflattering light."  A judge subsequently rules against Lydon.  2021
The title track of Metallica's "Master Of Puppets" album makes its U.K. Top 40 debut, at #22, 36 years after the song's original release. The resurgence is due to the Netflix series "Stranger Things" which featured the song in its season four finale.  2022