This Day in History: 2023-05-08

MAY 8th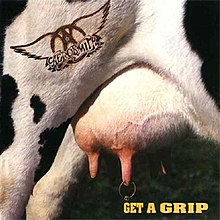 Aerosmith debuts at #1 on the Billboard 200 with "Get A Grip." The album goes on to sell over 20-million copies worldwide.  1993

Sum 41's "All Killer, No Filler" with hit single, "Fat Lip," is released. 2001
"Fat Lip," an unconsciously good single with shotgun lyrics, packing a rhythmic punch, scored big time.

"Break The Cycle," by Staind, drops. 2001
The album features the ballad "It's Been A While," the most-played Rock song of the decade.

Bullet For My Valentine's "Fever" is #1 Billboard's Hard Rock Albums chart moving 71,000 copies in its first week. It's #3 on the Billboard 200. 2010
It's the band's best charting album to date selling over 600,000 copies worldwide.

Originally released in '99, Lit's "My Own Worst Enemy" is finally certified double platinum by the RIAA, the trade organization that keeps tabs on recording certifications. It was the lead single off the "A Place In The Sun" album. 2020
MORE TODAY IN ROCK…
Chris Frantz, Talking Head's drummer, has a birthday. He's a native of Fort Campbell, Kentucky. 1951
Drummer Alex Van Halen is born in Holland. 1955
The Beatles issue "Let It Be," their final studio release, though it was started before "Abbey Road." 1970
Guitarist Joe Bonamassa is born in New York. He's known for his solo work and as a member of Black Country Communion. 1977
Penthouse magazine wins the right to publish X-rated photos of Tommy Lee (Mötley Crüe) and Pamela Anderson who had gone to court to stop the publication of the photos that were taken from stolen home movies. 1996
Audioslave frontman Chris Cornell marries publicist Vicky Karayiannis in Paris. It's the second time they exchange vows. The couple initially wed when Cornell's divorce became official but decided to re-tie the knot in a more traditional manner. 2004
Doctors in Auckland, New Zealand, perform brain surgery on Keith Richards, who fell from a palm tree (Richards later claims it wasn't a palm but a 'small tree') while vacationing in Fiji. "The operation was a complete success," says a Rolling Stones representative. The surgery does delay the Stones European tour. 2006
The two Australian miners are rescued after spending nearly two weeks trapped more than a half-mile underground. The miners passed the time listening to the Foo Fighters on their iPods. As a result, lead Foo Fighter David Grohl promises, "there's two tickets to any Foo's show, anywhere, and two cold beers waiting for you." 2006
Apple Corps, the label owned by the Beatles' members and/or their families, lose a trademark-infringement lawsuit against Apple Computer. A London court rules that the computer company did not breach a '91 contract involving the "Apple" name and logo, because its iPod and iTunes services are involved in selling music rather than creating it. 2006
The Dead bring in some live ones. A collection of Grateful Dead memorabilia earns more than $1.1 million during an auction in San Francisco. Guitars owned by the late Jerry Garcia draw the most action, including a cream-colored '75 Travis Bean electric that nets $312,000. 2007
Sweet home Alabama. Neil Young gets a spider named after him. Officially known as a Myrmekiaphila neilyoungi, the trap door spider is named by biologist Jason Bond. According to Bond "Young is worthy of that honor." The spider in question is found only in Alabama. Perhaps it should have been called Lynyrd Skynyrd. 2008
Red Hot Chili Peppers frontman Anthony Kiedis receives the Stevie Ray Vaughan Award at the fifth annual MusiCares MAP Fund benefit concert in Los Angeles. He's recognized for his contributions to the charity, which provides support to musicians with substance-abuse problems. 2009
Jack White (White Stripes, Raconteurs, Dead Weather) raises money for Nashville flood relief by donating all sales of his Music City-based Third Man Records store. 2010
Against Me! singer Tom Gabel comes out as transgender and announces her gender reassignment surgery and her new name, Laura Jane Grace.  2012
Halestorm announce the #ROADIESTRONG campaign aimed at providing essential financial assistance to road crews all over the world.  Fans purchase #ROADIESTRONG merchandise and make donations, with all proceeds going to Live Nation's Crew Nation which was established in the wake of the COVID-19 pandemic (and concert cancellations).  2020
Pantera's limited-edition social distancing t-shirt raises approximately $100,000 for the MusiCares COVID-19 Relief Fund. 40% of the net proceeds generated from the purchase of the "Vulgar Display Of Power" shirt goes to MusiCares. 2020
"Vax Live: The Concert To Reunite The World," a global broadcast and streaming special to help get COVID-19 vaccines to everyone, everywhere, gets underway from L.A. featuring Foo Fighters (performing with AC/DC's Brian Johnson and Pearl Jam's Eddie Vedder).  The event calls on philanthropists and corporations to donate enough "dollars-for-doses" to vaccinate more than 27 million health workers who are serving on the global frontlines.  2021
Disturbed's David Draiman dumps Tinder, the dating app, less than a week after he announced he was using the service to find "the right woman" following his divorce.  He deletes his account on Tinder, calling it "an absolute shitshow" where "scammers, grifters, fakes and phonies abound."  2023
Sum 41 announce they will disband following a scheduled worldwide headlining tour and the release of their eighth album "Heaven :x: Hell."  2023