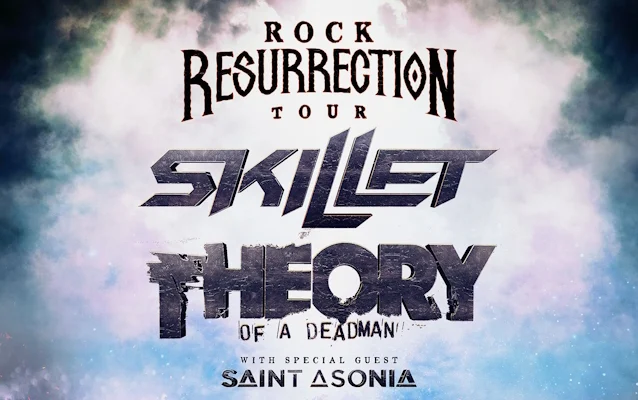 Skillet and Theory OF A Deadman will embark on the fall leg of the "Rock Resurrection" tour with Saint Asonia is set to kick off October 20th in Baton Rouge, LA.
The tour will begin following Skillet's performance at the Aftershock Festival, October 5th – 8th, at Discovery Park in Sacramento, CA.
Dominion," Skillet's eleventh and most recent studio album dropped last year and landed in the Top 5 on Billboard's Rock Albums charts.   
Theory Of A Deadman released its latest album, "Dinosaur," earlier this year.
"Rock Resurrection" Tour Dates:
Oct. 20 – Baton Rouge, LA
Oct. 23 – Shreveport, LA
Oct. 22 – San Antonio, TX
Oct. 24 – Corpus Christi, TX
Oct. 26 – El Paso, TX
Oct. 28 – Rio Rancho, NM
Oct. 29 – Colorado Springs, CO
Oct. 31 – West Valley City, UT
Nov. 01 – Idaho Falls, ID
Nov. 03 – Spokane, WA
Nov. 04 – Kent, WA
Nov. 07 – Billings, MT
Nov. 08 – Bismarck, ND
Nov. 10 – Minneapolis, MN
Nov. 11 – Brookings, SD
Nov. 12 – Waukee, IA
Nov. 14 – Grand Rapids, MI
Nov. 15 – Peoria, IL
Nov. 17 – Youngstown, OH
Nov. 18 – Johnstown, PA
Nov. 19 – Mashantucket, CT
Nov. 21 – Norfolk, VA
Nov. 22 – Salem, VA
Nov. 24 – Jacksonville, FL
Nov. 25 – Orlando, FL
Nov. 28 – Mobile, AL
Nov. 30 – Huntsville, AL
Dec. 01 – Spartanburg, SC
Dec. 02 – Johnson City, TN
Dec. 05 – Fort Wayne, IN
Dec. 06 – Evansville, IN
Dec. 08 – North Little Rock, AR
Dec. 09 – Wichita, KS