Opening for Metallica is a big deal.  Iggy Pop, Ghost and Greta Van Fleet have done it. 
For Metallica's "M72" shows at MetLife Stadium in East Rutherford, NJ last weekend Pantera and Mammoth WVH opened Friday with Five Finger Death Punch and Ice Nine Kills doing the honors on Sunday.  Those bands shared a stage with the legendary band. Two other bands had a more distant connection.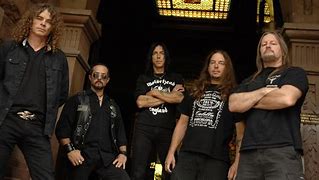 Metallica's MetLife concerts included pre-concert parking lot performances by Prong (pictured above – played 8/4) and Overkill (pictured left – performed 8/6) in the G section of the MetLife parking lot.  Attendees needed a ticket to see the pre-show parking lot performance.
Shows inside and outside the venue is the total concert experience!