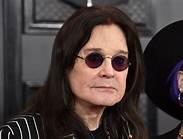 A 33-foot-tall mechanical bull that made an appearance at last year's Commonwealth Games in Birmingham, England has been named after Ozzy Osbourne.
Ozzy garnered 70% of the 28,000 cast to name the sculpture that was known informally as Raging Bull.
The other names in the running were Bostin, Brummie or Boulton.
The Ozzy bull will be unveiled at its permanent home, Birmingham New Street station, in July. A petition to keep the sculpture in the city received more than 15,000 signatures.
Osbourne performed at the closing of the Commonwealth Games in his original hometown of Birmingham on August 8th, '22.