AXS TV will premiere "Metal Massacre: The Story Of The Legendary Album" on Saturday, October 28th at 9 p.m. ET.
The film tells the story of the groundbreaking '82 "Metal Massacre" vinyl compilation — that chronicled the L.A. Metal scene, which helped launch the careers of Metallica and Ratt.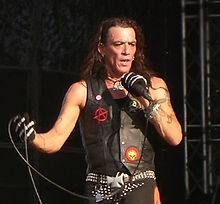 Commentary and anecdotes from Metal Blade founder Brian Slagel, Metallica's Lars Ulrich and James Hetfield (pictured above) plus Ratt frontman Stephen Pearcy (pictured left) are featured.
Slagel put out a compilation of unsigned, underground Metal bands. Throughout the '80s and early '90s he continued to release additional compilations. To date, there have been fifteen "Metal Massacre" volumes.