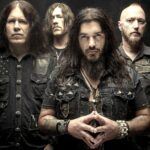 Machine Head will embark on a small-town America trek as part of their "Electric Happy Hour (Live)" tour, that will begin November 3rd in Fresno, CA.
"We're f*cking STOKED to get out and demolish venues in some of our favorite small towns in America," says frontman/founder Robb Flynn.
While Baltimore, Tampa and San Diego don't qualify as "small market" there are enough stops that do.
Here is a list of the scheduled tour dates:
Nov. 03 – Fulton 55 – Fresno, CA
Nov. 06 – Urban Lounge – Salt Lake City, UT
Nov. 08 – Knitting Factory – Spokane, WA
Nov. 10 – Revolution – Boise, ID
Nov. 12 – The Gaslight Social – Casper, WY
Nov. 13 – Black Sheep – Colorado Springs, CO
Nov. 15 – The Original – Minot, ND
Nov. 16 – The Hall at Fargo Brewing – Fargo, ND
Nov. 18 – Bigs Bar – Sioux Falls, SD
Nov. 19 – Royal Grove – Lincoln, NE
Nov. 20 – Outland Ballroom – Springfield, MO
Nov. 21 – Red Flag – St. Louis, MO
Nov. 22 – High Noon Saloon – Madison, WI
Nov. 23 – Deluxe @ Old National Center – Indianapolis, IN
Nov. 25 – The Forge – Joliet, IL
Nov. 26 – Machine Shop – Flint, MI
Nov. 27 – A&R Music Bar – Columbus, OH
Nov. 28 – Legends – Cincinnati, OH
Nov. 30 – The Paramount – Huntington, NY
Dec. 01 – Portland House of Music – Portland, ME
Dec. 02 – Stone Pony – Asbury Park, NJ
Dec. 03 – Reverb – Reading, PA
Dec. 04 – Soundstage – Baltimore, MD
Dec. 06 – Elevation 27 – Virginia Beach, VA
Dec. 07 – The Loud – Huntington, WV
Dec. 08 – Underground – Charlotte, NC
Dec. 09 – Eastside Bowl – Nashville, TN
Dec. 10 – Music Farm – Charleston, SC
Dec. 12 – Culture Room – Ft. Lauderdale, FL
Dec. 13 – Orpheum – Tampa, FL
Dec. 15 – The Hall – Little Rock, AR